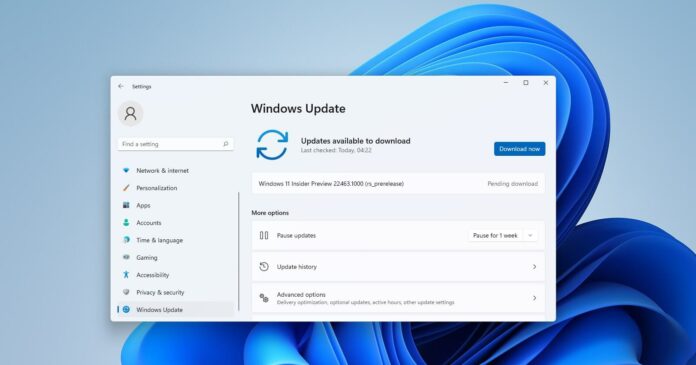 Windows 11 Build 22463 is yet another preview update from the Nickel (active development branch) and it comes with minor bug fixes. Microsoft officials have reconfirmed that it may be a little while before new features start appearing in these builds.
The update is titled "The patch "Windows 11 Insider Preview 22463.1000 (rs_prerelease)" and it can be downloaded on PCs with the supported processor and TPM module. If you're using a virtual machine, you need to enable encryption (if required), add a TPM module and enable secure boot to run this or upcoming builds.
Windows 11 Build 22463.1000 is not tied to any specific feature updates, so the changes you see here may or may not ship in the next year's feature update. Microsoft has warned testers that they could soon be encountering a lot more issues as the development of the next feature update advances.
In Build 22463 for Windows 11, a watermark may appear on the desktop and that's normal, according to Microsoft officials.
Improvements in Windows 11 Build 22463
With today's update, Microsoft has finally fixed a bug where taskbar icons were misaligned on devices with custom scaling settings. This bug also affected virtual machines and icons were cut off from the taskbar. After applying today's update, this issue will automatically disappear.
Additionally, Windows 11 update now lets you use CTRL + Shift + C to copy the path of a file or folder in File Explorer and save it to the clipboard which can be synced across your devices.
Based on feedback, Microsoft fixed an issue where a large number of apps could result in Start menu reliability issues. For example, the Start menu could be stuck with icons. This bug was spotted when users changed the DPI settings of the display and it has been fixed in the latest build.
Microsoft has also updated the Quick Settings with an icon next to the volume slider to make the option more accessible.
Windows 11 Build 22463 comes several other improvements:
Microsoft has rounded the corners for pop-ups shown in the settings app.
Microsoft has made adjustments to the contrast theme colours to improve accessibility.
The "Windows Ease of Access" folder in the Start menu is now called Accessibility.
Focus Assist feature is getting a new option that would let you enable Focus Assist automatically for the first hour after an update has been applied to your device.
You can press and hold down the arrow after launching Start to open the pinned apps section.
Microsoft has fixed an issue affecting the performance of Windows Narrator.
Taskbar icons are now properly aligned and centered.
The notification center will now correctly count and display alerts on the taskbar.
Improved explorer.exe reliability.
Microsoft has warned that PCs part of the Mobile Device Managed (MDM) may not receive this update due to compatibility issues. Microsoft is promising a fix in the next update.
How to install Windows 11 Build 22463
To install Windows 11 Build 22463.1000, use these steps:
Signup for the Windows Insider Program.
Join the Dev Channel.
Check for updates.
The build will appear if you have a supported device.
Restart the device to finish the installation.
Known issues in Windows 11 Build 22463
Start menu, Windows Search and taskbar may not work as expected. In some cases, users may be able unable to enter text when using search. To fix this, launch and close the Windows run dialog.
File Explorer context menus can unexpectedly dismiss when you access OneDrive locations.
Windows widgets may appear blank and Microsoft Store results won't be accurate.
In addition to the new preview build, Microsoft has also released a new version of Teams 2.0 with Windows 11 Mica.