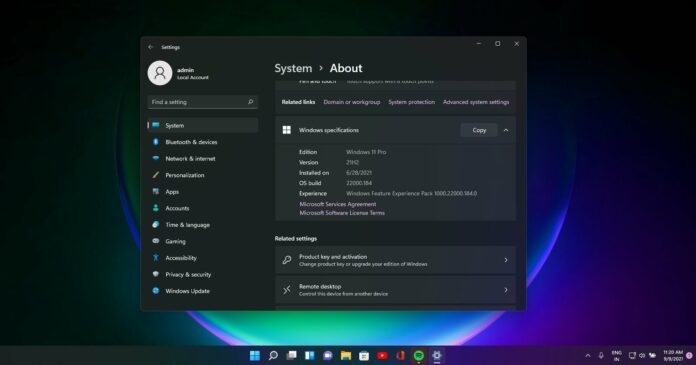 Windows 11 Build 22000.184 (KB5005642) is now rolling out to testers in the Beta Channel of the program.
The next generation of Windows is expected to launch on October 5 and Microsoft has been trying to improve the overall experience by addressing the remaining bugs with cumulative updates.
Microsoft has now published "2021-09 Cumulative Update for Windows 11 for x64-based Systems (KB5005642)" for testers in the Beta Channel. This cumulative update is also available for unsupported hardware in the Dev Channel, and it comes with two bug fixes only.
Windows 11 KB5005642 is part of the company's plan to refine and hone the operating system update before it's released to the general computing public on October 5. As we've already seen, Windows 11 is a massive update with a redesigned Start Menu and a new notification center.
These regular bug fixes indicate that the update is progressing on track and it's probably going to be ready for primary devices in the first half of October 2021.
New improvements in Windows 11 Build 22000.184 (KB5005642)
Windows 11 Build 22000.184 comes with the following bug fixes:
Microsoft has fixed an issue where the new learn more section OOBE screen could not be translated into non-English languages.
Windows Update has addressed a bug where languages translation may not work across the UI in Windows 11.
With the previous update, Microsoft fixed issues with Bluetooth connectivity and Blue Screen of Death errors. Unfortunately, today's cumulative update consists of two bug fixes only.
Windows 11 is shipping with several limitations
At this point, it's also clear that Windows 11 will ship with all taskbar limitations that we highlighted in our previous articles. For example, Windows 11 can no longer display seconds on the taskbar, and Calendar flyout from the taskbar no longer supports events integration.
Windows 11 has several other limitations too and there's no shortage of complaints on Feedback Hub. Microsoft has also disabled basic functionalities like the ability to drag and drop files icons onto the taskbar to open them in pinned app icons.
Windows 11 will begin rolling out in a few weeks and things are unlikely to change until the next big codenamed "22H2" which is scheduled for October 2022.
As always, you can use third-party apps to restore the classic taskbar experience or you can keep using Windows 10.
How to install Windows 11 KB5005642
To install Windows 11 KB5006050 (Build 22000.184), follow these steps:
Open Settings.
Head to the update page as you would normally.
Click on "Check for updates".

The download will automatically begin and finish in a few minutes.
Once complete, click on the "Restart now" button to finish the installation.
It's worth noting that Windows 11 can be downloaded on any device as long as you modify the registry and get access to the Windows Insider program. Or you can also wait for the official release which is scheduled for October 5.
Known issues in Build 22000.184
Windows 11 Build 22000.184 comes with these known issues:
Microsoft is looking into reports of Windows Sandbox problems. According to the changelog, the Windows Sandbox language input switcher does not work when you click on the switch button pinned to the Taskbar. If you're unable to switch the language in a sandbox environment, you can use hardware keyboard shortcuts instead.
Windows widgets remain broken for some users. If you're unable to access widgets, sign out and sign back in.
Widgets board may not appear correctly on external monitors.
Microsoft is aware of quality issues with Windows Store.
Microsoft is aware of problems with Windows Search. A bug could prevent the search panel from launching on the desktop. If this happens on your device, restart the "Windows Explorer" process.
Microsoft is aware of an issue where the Taskbar will flicker when you switch input methods.
A bug could also hide the new Start menu and taskbar for some devices when they upgrade to Windows 11 via the Beta Channel. If you're unable to launch the new taskbar and Start menu, open Windows Update > Update history, and uninstall the recent updates.
If you come across undocumented and unbearable bugs, you can always downgrade to Windows 10 using the Media Creation Tool.
Or you can uninstall Build 22000.184 by heading to Settings > Windows Update > Control Panel, and select the patch that you want to remove.