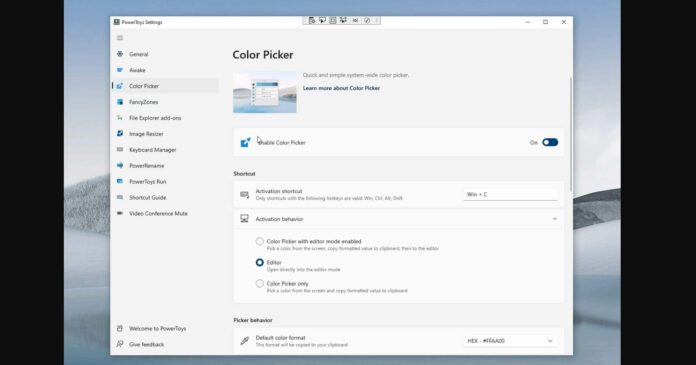 Microsoft is slowly updating the native and productivity tools for Windows 11 with rounded corners, Mica theme support, and other improvements. Microsoft has already updated apps like Snipping Tool, Calculator, and Mail & Calendar to match the new design language of Windows 11.
When Windows 11 ships, Microsoft will also update the PowerToys tool with a new look that will match the design of the new operating system. For those unaware, PowerToys is a utility collection created and maintained by Microsoft, and new tools are still being developed.
Microsoft is working with the community on new features, tools, improvements, new configuration options, and bug fixes for PowerToys. The most recent version of PowerToys offers support for the global mute button, File Explorer enhancer, Image Resize, FancyZones, Shortcut guide and more.
As part of the first big update to the PowerToys interface, Microsoft plans to introduce a new settings/configuration screen for the utility collection app. The upcoming update includes rounded corners, WinUI 2.6 controls, Fluent Design improvements, new icons, and various elements from the Windows 11 design language.
Here's everything new in the PowerToys design refresh:
New interface for settings.
New standardized controls that apply to all pages.
Matches Windows 11's Settings UX.
Many accessibility improvements.
Microsoft has replaced RadioButtons with ComboBox for choosing a mode section.
Keyboard accessible with dropdown buttons.
Improved dark mode support.
New updating interface.
However, PowerToys redesign doesn't support Acrylic, Mica or title bar customizations. This will be resolved when PowerToys is moved to WinUI 3 entirely.
PowerToys is slowly getting better on Windows 10 and Windows 11
As we mentioned at the outset, PowerToys is an open-source tool and it's slowly getting with frequent updates.
For example, Microsoft recently pushed out a big update for PowerToys that added a useful new tool for advanced users. The feature is called "Awake" and it allows Windows 11/10 users to control when their device enters sleep mode.
This feature is designed for desktops and it lets users disable sleep mode entirely. If you don't want to disable sleep mode, you can also set a period during which your device will not respect the system's sleep mode settings.
In addition to PowerToys, Microsoft is also working on a new design for classic Paint and Notepad for Windows 11.