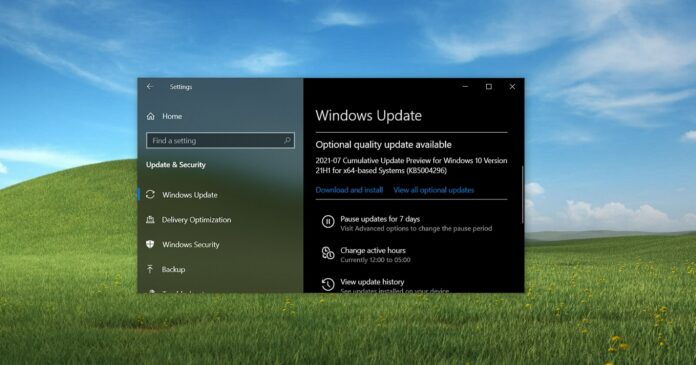 Windows 10 KB5004296 is now rolling out to version 21H1, v20H2, and v2004 via Windows Update. As always, Microsoft has also published the direct download links for Windows 10 KB5004296 offline installers, allowing users to install the patch without checking for updates using the Settings app.
KB5004296 is an optional update and it will not download or install automatically on your desktop. This preview cumulative update is particularly important for those having gaming issues (reduced frame rates or graphic rendering issues). If you can't wait for August Patch Tuesday, you should download this optional preview today.
Windows 10's gaming issue causes reduced frame rates and 'lower than expected performance in games', according to support documents from Microsoft. This has been a known issue since this year's April cumulative updates, according to our own tests and user reports.
With KB5004296, Windows 10 gaming issues are finally fixed. For those on Windows 10 version 21H1 (May 2021 Update), they'll be getting Windows 10 Build 19043.1151. If you're on October 20H2 Update, which was released in October 2020, you'll get Windows 10 Build 19042.1151 instead.
On devices running version 2004 or newer, you will see the following patch when you check for updates:
2021-07 Cumulative Update Preview for Windows 10 Version 21H1 for x64-based Systems (KB5004296)
Or
2021-07 Cumulative Update Preview for Windows 10 Version 20H2 for x64-based Systems (KB5004296)
To download and install Windows 10 Build 19043.1151, use these steps:
Navigate to Windows Update > Update & Security and click on Windows Update.
Select Check for Updates.
Under the optional updates section, click on download and install.
The optional update section will appear only when a quality update is available and driver updates will be unchecked by default. As mentioned above, you can begin downloading the patch by clicking 'Download and install.'
Download Links for Windows 10 KB5004296
Windows 10 KB5004296 Direct Download Links: 64-bit and 32-bit (x86).
If you click on the above link, it will open Microsoft Update Catalog. On Update Catalog, you can search for the above update or other updates, and you need to click on the "Download" button to start the download.
If you're unsure about your device's configuration, simply open Settings > System and look below the about section.
Once you've identified the update, click on the "Download" button, a new window will open within the browser. Open the .msu link and paste it into another tab to start the download.
Windows 10 KB5004296 (Build 19043.1151) Full Changelog
In addition to gaming fixes, Microsoft has also fixed a bug that seems to affect power plans on Windows 10. The "balanced" or "high performance" doesn't work properly on some configurations due to unknown issues in the previous updates.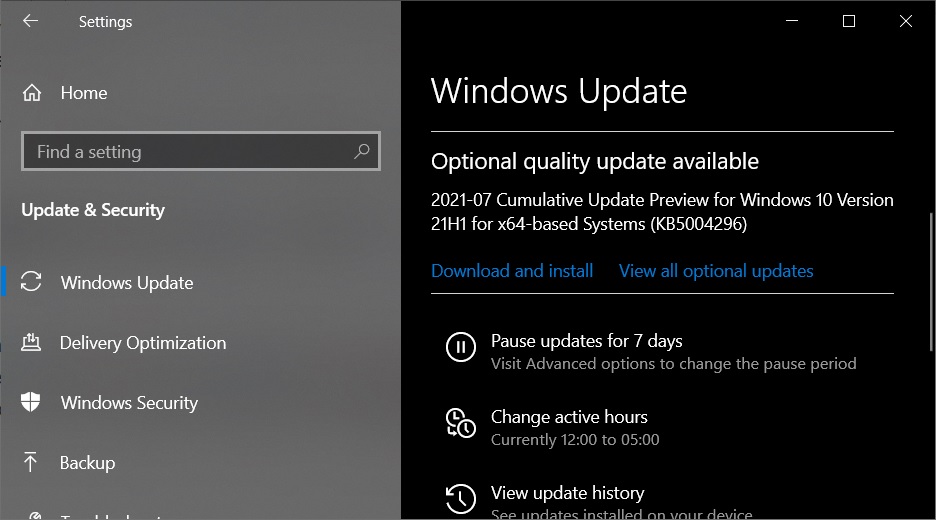 Thankfully, Microsoft has finally fixed the problem with today's optional cumulative update
Windows 10 Build 19043.1151 has also addressed an issue that prevents gaming services from opening certain games. Similarly, another bug has been fixed that prevents users from enabling Input Method Editor (IME) when your device is set to shut down automatically when the lid of the laptop is closed.
Another issue has been fixed where Windows is unable to detect internet connectivity when you're connected to the virtual private network (VPN). The company has also applied a fix for an issue that results in printing problems or printouts with wrong output on devices using USB connections.
The patch is available for testing in the production channel, but it will download or install automatically. These issues will be fixed in the near future for everyone when August 2021 security updates are released.
If you don't want to install the optional update and you've gaming issues, try using third-party tools to configure power plans.
Windows Timeline sync feature is being retired
Windows 10 Build 19043.1151 removes support for Windows Timeline's ability to sync across different devices. After applying this cumulative update, Windows Timeline no longer syncs your activity history across your different devices via your Microsoft account.
For those unaware, Windows Timeline allows users to keep a track of their activities across various devices. Timeline was ditched from Android (Microsoft Launcher) last year and Microsoft has now retired the sync capability.