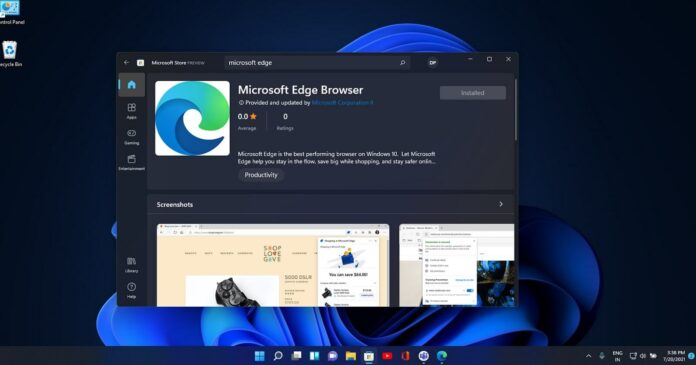 It seems that Microsoft is finally ready to release Microsoft Edge directly via Microsoft Store – or at least, a test version is now available on Windows 11's Microsoft Store, which certainly points to the possibility of this happening before long.
As you're probably aware, Windows 11 comes with a new Microsoft Store and it will allow developers to publish their unpacked Win32 desktop apps to the store. These unpacked desktops are now compatible with the Windows Store and optimised for both Windows 10 and Windows 11.
In other words, you'll soon be able to download web browsers, Microsoft Teams, VLC media player, and other full desktop apps on the store. Starting today, Windows 11 testers can already download and install Chromium-based Microsoft Edge from the redesigned app store.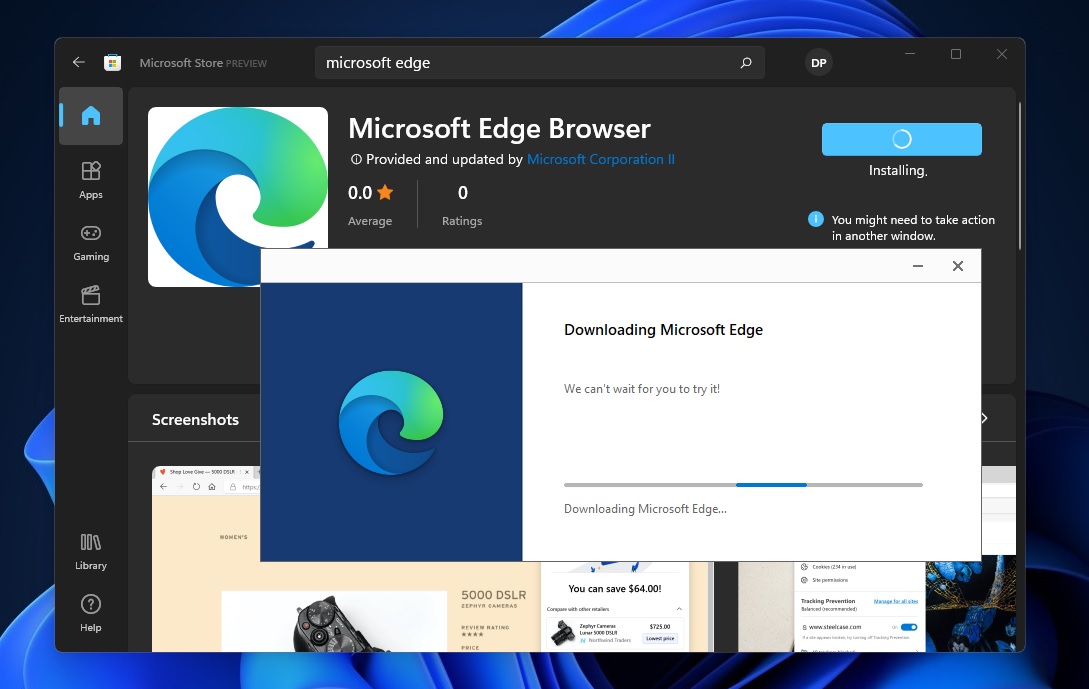 With one click, the browser will be downloaded swiftly. However, it appears that the Store is only downloading the installer of Edge. To complete the installation process, Microsoft Store states that users need to open another window and Edge bits will be downloaded outside of the Store.
The Store in Windows 11 will also allow users to download web extensions for Microsoft Edge. In the preview builds, typing in 'Edge' in the search bar of the Microsoft Store will show a few new extensions designed for the Chromium version of the browser.
The current extension store isn't going away, which means users can download and install extensions from both stores.
This is exciting because it shows that Windows 11's app store will finally support all desktop apps, as Microsoft promised during the event. According to support documents, all Chromium-based browsers are allowed, so it's likely that Chrome, Brave, Vivaldi and other Chromium browsers will also make their way to Windows 11 app store soon.
Mozilla has also confirmed that it's planning to publish its Firefox browser in the Windows 11 store.
Other apps and browsers coming to Windows 11 store
In addition to Edge, Microsoft is also bringing Notepad and Paint to the Store. These popular first-party apps become separate Store-updateable applications on Windows 11, with their own section and page on the Microsoft Store.
This means Notepad, Paint and other native Windows apps will now be able to receive new features and upgrades automatically via the Microsoft Store, rather than needing to wait for Windows 11 features.