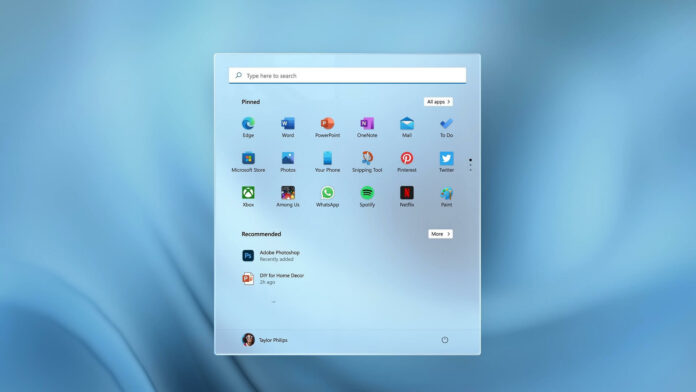 Windows 11 Build 22000.65 (KB5004745) is now available for Windows Insiders in the Dev Channel with a number of quality improvements. This is the second update to Windows 11 and it adds a new search bar to the Start Menu, Power modes for Windows Settings, and improves the overall taskbar experience.
With Windows 11 KB5004745, Microsoft is adding a new search box to the Start Menu to make it easier to find what you're looking for.
This feature was first teased by Microsoft during the Windows event on June 24 and it is merely a shortcut to the existing Windows Search. If you type in the new search bar, it will simply switch to the Windows Search panel. It's possible that Microsoft is internally working on a full-fledged search bar for the Start menu and we'll learn more in the coming months.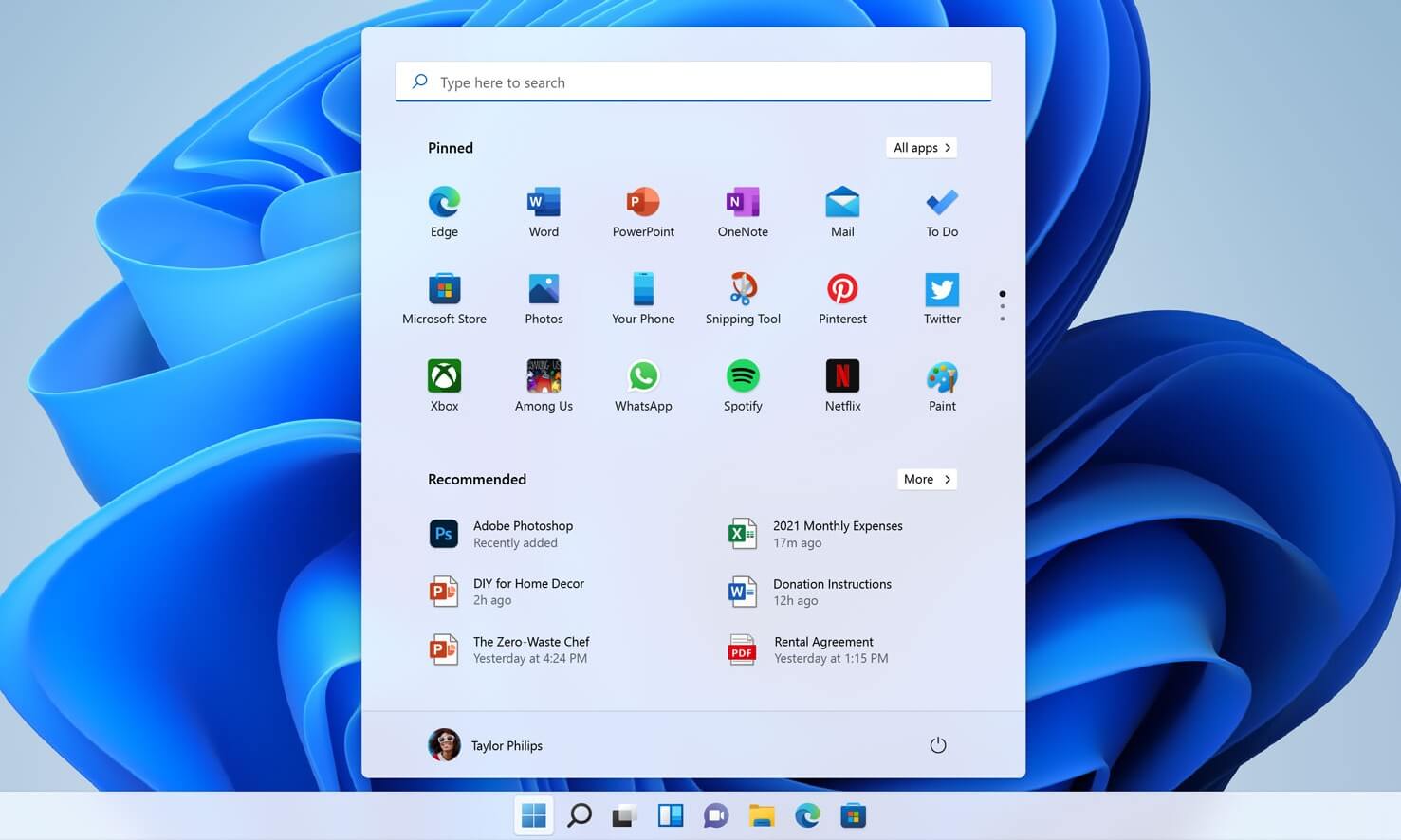 After the update, the Start menu and Windows Search will appear more transparent when you use a bright wallpaper.
Build 22000.65 also comes with one new feature for the taskbar: multiple monitors support. This will allow users to view and manage the taskbar across multiple connected monitors. It can be enabled by visiting Settings > Personalization > Taskbar.
Likewise, you can now right-click on the volume icon in the taskbar to access the "troubleshoot sound" feature.
Windows 11 Build 22000.65 has fixed another bug where the "Show Desktop" button wouldn't work. Another issue has been fixed where the taskbar failed to render the date and time in your preferred format. Other taskbar bug fixes include:
Microsoft has resolved an issue where the preview window might not display the entire context of the app.
Microsoft has resolved an issue where the ESC key wouldn't dismiss the window of open apps.
Microsoft has fixed issues with the taskbar on tablets that support orientation.
New features in Windows 11 Build 22000.65 (KB5004745)
In addition to taskbar improvements, Microsoft is also introducing a new modern "alert dialog" that will remind users when the battery is running low or when you change your display settings.
Windows Settings app is even getting support for "Power mode" on the Power & battery page.
Here's a list of other improvements in Build 22000.65 (KB5004745):
Windows context menu: A new refresh menu button has been added. You no longer need to click "Show more options". Similarly, you can right-click on PowerShell scripts to run as administrator.
Snapping: Microsoft is improving window snapping on smaller PCs in portrait orientation, allowing users to select snap three apps on top of each other instead of four quadrants on tablets with a smaller display.
How to install Windows 11 KB5004745
To install Windows 11 KB5004745, follow these steps:
If you're new to beta testing, you need to join the Windows Insider program from Settings and sign up for the Dev Channel.
Once done, reboot the system and check for updates.

As shown in the above screenshot, Windows 11 cumulative update will automatically start downloading.
If you're stuck on Windows 10 and unable to download the update due to the new hardware requirements, you can make changes to the registry to install the update on unsupported devices.
According to Microsoft, Windows 11's cumulative update would take less than five minutes for installation.
Known issues in Build 22000.65
Microsoft is also aware of multiple known issues in the second update for Windows 11. For instance, the taskbar will sometimes flicker or launch/minimize apps when you try to rearrange apps in the taskbar.
There's another that will disable the new File Explorer's command bar when the "Open folders in a separate process" feature is enabled under File Explorer Options > View. In some confirmation, context menu and submenus may appear off screen in File Explorer windows.
Other known issues:
Search panel may not open.
Recent searches may not be displayed when you hover over the search icon
Widgets panel may appear empty or use incorrect window size.
Microsoft Store's install button might not work.
Windows Security app will incorrectly report that the device is unsupported.