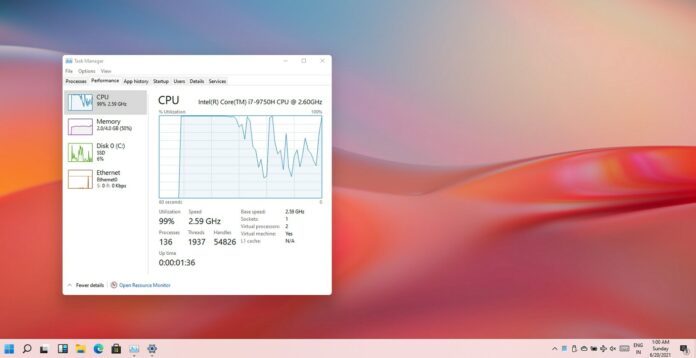 On June 24, Microsoft is holding an event to unveil the upcoming Windows version, which is not going to be another variant of Windows 10.
Microsoft has been dropping hints about the "next generation of Windows" since the Ignite 2021 developer conference, with the latest teaser coming from the company's YouTube and Twitter accounts.
While the leaked Windows 11 build has revealed new visual improvements, we don't know if the next-gen OS will be faster than Windows 10 or not. That changes now, thanks to the benchmark of the leaked build, which confirms previous reports that Windows 11 will offer performance improvements on select hardware.
New benchmark tests have been carried out to find the changes made to the Windows scheduler in the leaked build. Benchmark details:
Windows 10 version 21H1 (May 2021 Update) vs a leaked build of Windows 11.
Samsung Galaxy Book S with the Lakefield Core i7-L16G7.
Base drivers updated using Samsung's built-in software.
Windows benchmarks
As you can see in the below test results, Windows 11 appears to be slightly faster than Windows 10 May 2021 Update.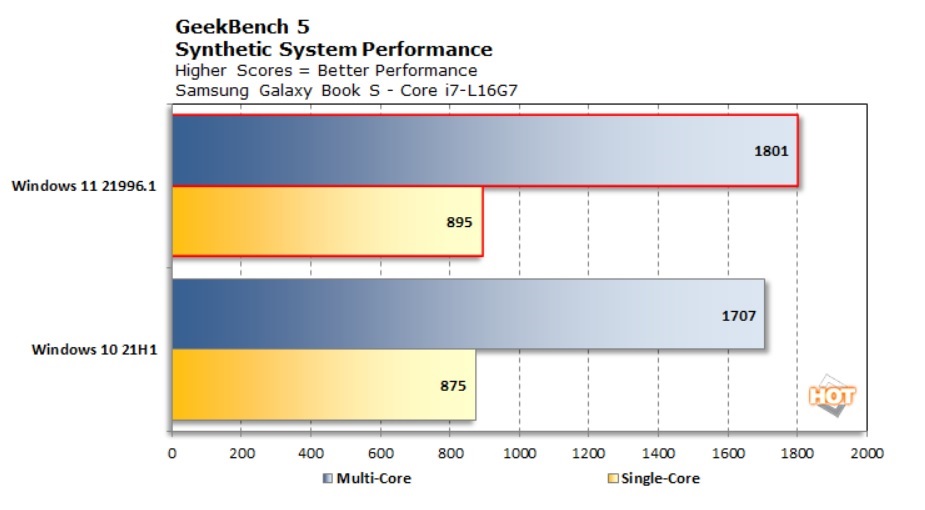 In GeekBench 5 test, Windows 11 offers a 5.8% boost in the multi-threaded tests and 2% for single-core. The result indicates a minor improvement in performance and it's not exciting, but we're expecting further improvements when the operating system is finalized and ready for consumers.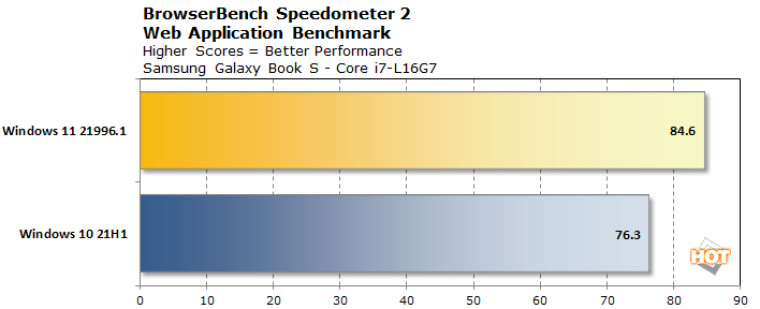 Windows 11 also seems to be faster than Windows 10 21H1 when it comes to web browsing.
In BrowserBench tests, the leaked build runs Chrome v91 10% faster than 21H1 (May 2021 Update).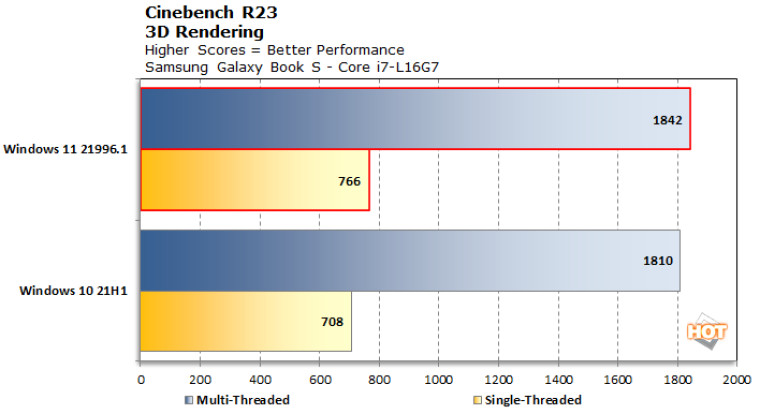 Cinebench R23, which attempts to give a "real-world" benchmark reading of the power inside the test machine, revealed that the leaked build is nearly 8.2% faster in the single-threaded test.
This result is based on three different tests and the Core i5-L16G7 processor has been faster with Windows 11 in all experiments.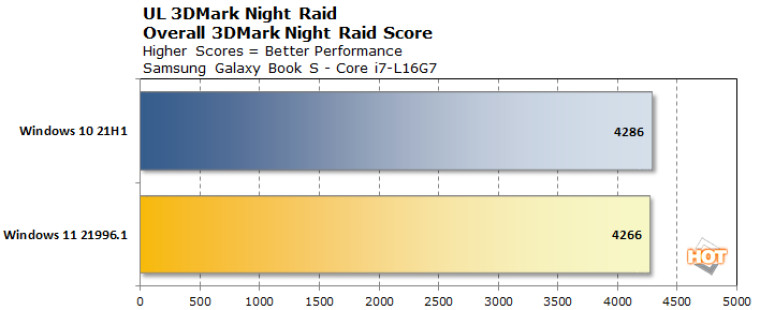 3DMark test saw a minor performance regression, which is not surprising as the drivers are not optimized for the leaked update.
Microsoft is working on massive scheduling updates
Overall, Windows 11 is faster than its predecessor in early tests and this was expected, according to previous reports.
Intel and Microsoft are apparently working to optimize the performance of Windows 11, according to sources familiar with the development. Intel has already confirmed its 12th-generation Alder Lake will use a combination of normal cores and power-efficient cores.
Reports suggest that Microsoft is working on "massive scheduling updates" to improve the performance of systems with hybrid CPUs.
Windows update will optimize the built-in scheduler for hybrid CPUs, a change that would benefit systems with normal cores and low-power cores, such as Intel Alder Lake and ARM's big.LITTLE.
The next version of Windows, which will be announced on 24 June, will launch around the same time as Alder Lake in October.