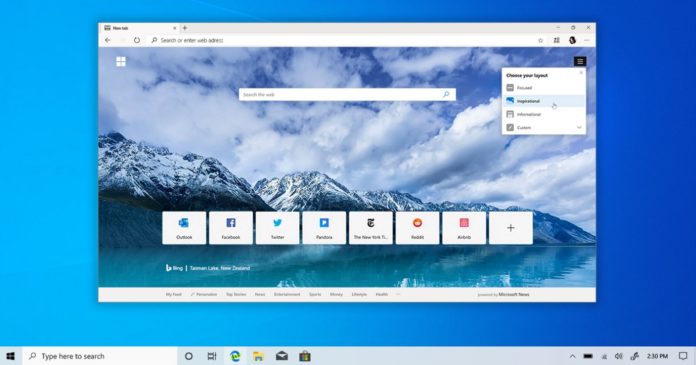 The legacy version of Microsoft Edge codenamed 'Spartan' will not ship with Windows 10 version 21H1 and newer, according to updated support documentation. For older Windows versions, Microsoft Edge Legacy will disappear when the next batch of cumulative updates is released on April 13.
Microsoft's new Chromium-based Edge is the default browser in Windows 10 version 20H2, but the operating system still comes with the old Edge. In other words, Windows 10 currently comes with three browsers pre-installed: Chromium Edge (default), Microsoft Edge Legacy (hidden), and Internet Explorer (optional/disabled).
Support for Edge Legacy ended on March 9 and the upcoming April 2021 cumulative update will remove the browser from older versions of the OS.
Now, in an update to the support document on March 6, Microsoft quietly confirmed that Windows 10 21H1 would be the first version to ship without the legacy Edge, which means the browser has been completely removed.

After the feature update, you won't be able to find the browser in the OS anymore or run two versions of Microsoft Edge side-by-side.
However, Microsoft Store (UWP) apps that use EdgeHTML are not affected as WebView remains supported.
For older versions of Windows 10, these changes will be included in the April 2021 cumulative updates. This includes version 1809, version 1903, version 1909, version 2004, and version 20H2.
After these updates, Windows 10 will have Chromium Edge and Internet Explorer (disabled/optional).
End of support notification in Microsoft Edge
In old Microsoft Edge, Microsoft has started alerting users that they should 'download the new version of Microsoft Edge today'.

As you can see in the above screenshot, Microsoft Edge notification is also reminding users that support for the browser has ended and no new security updates will be released.
This move is expected to improve the market share of Microsoft Edge. Of course, Google Chrome still dominates the browser game, but more users have made the switch to Microsoft Edge in the last 6 months.
The new version of Edge, based on Google's Chromium engine, comes with big improvements and is better than Chrome in terms of both performance and features.