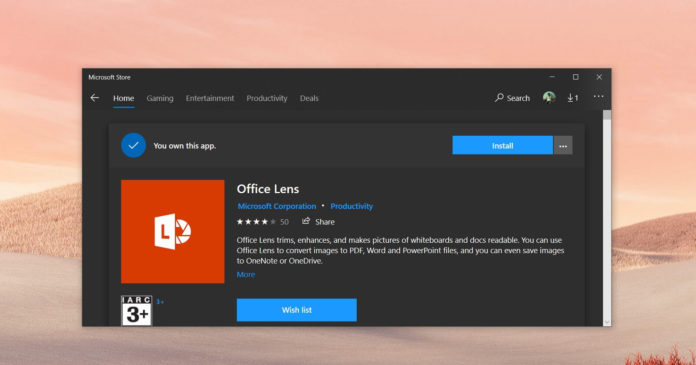 Microsoft is constantly adding new features and apps to Windows 10 via Windows Updates and Microsoft Store. At the same time, Microsoft is also pretty brutal when it thinks apps or services aren't being used or better alternatives are available.
As it does every year, Microsoft is now reminding customers that it's going to end support for some Windows 10 apps and enterprise services in 2021.
Perhaps the most noticeable Windows 10 app that has been discontinued is the Office Lens app. As you may be aware, Office Lens is popular because it lets you shoot photos of written materials and then convert printed words in the image to text through OCR.
There are other ways to extract images from screenshots or images, but Microsoft has added some impressive tricks to the genre with Office Lens and it's currently the best solution in the marketplace.
Earlier this week, Microsoft removed Office Lens from the Microsoft Store. If the app is installed, you can still use it but it no longer supports cloud-based features. For example, you won't be able to save photos scanned using Office Lens to OneNote or OneDrive.

Microsoft is recommending users to download the app from the Play Store and App Store for the best experience.
If you still want to use Microsoft's OCR technology on Windows 10, you can also try OneDrive, which now has all the basic features including to scan the Whiteboard, Business Card, and Photo.
Old Microsoft Edge
The original Microsoft Edge browser, which is pre-installed with all versions of Windows 10, won't be supported after March 2021.
In a post to the admin portal, Microsoft is advising Windows 10 users to use the new version of Edge, which has been retooled using Chromium open-source platform. If you don't move manually, the new Edge will be automatically installed.
Internet Explorer 11
Starting August 17, 2020, you can no longer use Internet Explorer to access Microsoft 365 services, such as Office web apps, Outlook, and many Microsoft account features will be unavailable.
Microsoft is encouraging users to upgrade to Edge, which works best with Windows 10.
Enterprise services
Later this year, Microsoft plans to end support for the following enterprise services:
TLS 1.0 and TLS 1.1
Skype for Business Online Connector
Visio Web Access