Intel has published new Universal Windows Driver (UWD) graphics drivers for Windows 10 – also known as Declarative Componentized Hardware drivers – with some nifty improvements.
Intel graphics driver version 27.20.100.9079 is gradually rolling out to all Windows 10 users and it comes with improvements for select games. Like the previous versions, this driver is also labelled as a universal driver, which simply means that it will work on Windows 10 devices with version 1709 or newer.
According to the changelog, Intel GPU driver 27.20.100.9079 update fixes an issue where users might notice graphic anomalies in the game when switching from maximized windowed mode.
Intel has also fixed crashes and graphic anomalies reported in games like Assassin's Creed Valhalla, Arma, Tom Clancy's The Division 2, Fortnite (Battle Royale Mode), and Angry Birds Space.
As we mentioned at the outset, software compatibility remains unchanged, which means PCs running version 1709 or newer should be able to apply the patch. As far as hardware compatibility goes, Intel is supporting all processors from the 6th generation onward.
You should be able to update the driver using Intel's Driver & Support Assistant tool in the coming days.
A key feature 'HAGS' is still missing in Intel GPU driver
Unfortunately, Intel has again failed to deliver support for the highly anticipated feature called hardware-accelerated GPU scheduling.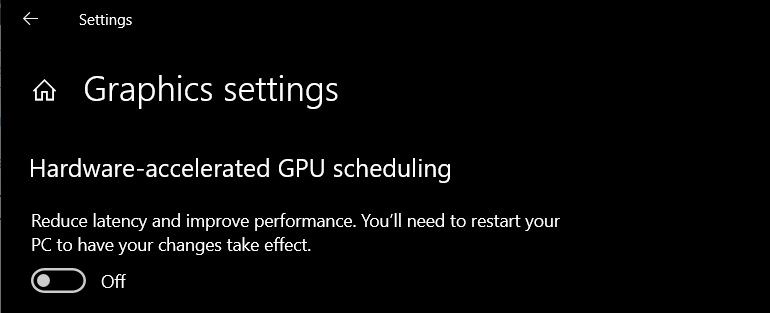 In May, AMD and Nvidia released new drivers adding support for hardware-accelerated GPU scheduling, which was introduced with Windows 10 May 2020 Update (version 2004). This feature basically allows your GPU (both integrated and discrete) to get the memory management control from the CPU.
It's widely believed that proper memory management implemented with HAGS could cut down CPU usage in some configurations and contribute to a small performance boost.
In a support document, Intel confirmed that it's looking to include support for this feature in future driver releases, but it has failed to deliver on that promise, at least in 2020.