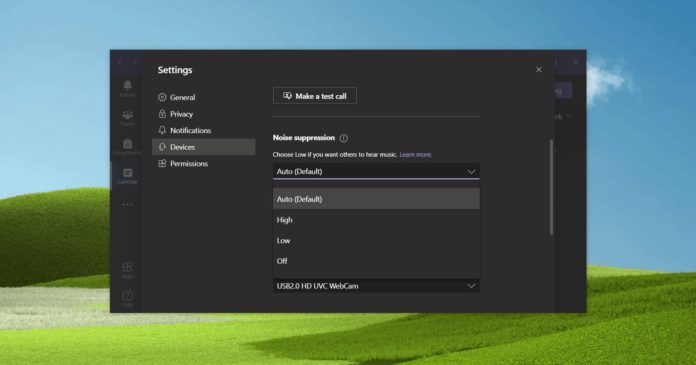 With an enormous number of people working and learning from home, Microsoft is now rolling out a new AI-based feature that will make your calls in Microsoft Teams distraction-free.
This feature was first announced earlier this year and it's finally rolling out to everyone, according to our own tests.
Microsoft Teams can now use advanced 'noise-suppression' feature to potentially remove the annoying environmental noises we often hear in online meetings. With the new noise suppression feature on supported hardware, you can completely eliminate background noise.
A Microsoft source, who wished to remain anonymous, told us the company has been using artificial intelligence technology internally to teach Microsoft Teams to automatically reduce background noise for voice chats and meetings.
Microsoft now wants to give you greater control over noise suppression with these new options:
Auto: This would be the default suppression mode of Teams and Microsoft will automatically select the best level of noise suppression based on local noise.
Low: Low option, which is optional, will suppress noise produced by your computer fan, table fan, or air conditioner. This option works best when you're playing music in the background.
High: Suppresses all background sound that isn't a speech or produced by a human, such as a dog barking in the neighbourhood, typing noise, etc.
Off: Turns off noise suppression completely and it's suitable for high-quality microphones in a low noise environment.
How to reduce background noise in Microsoft Teams
To reduce background noise in Microsoft Teams using noise suppression, follow these steps:
Open Teams and click on your profile icon.
Select Settings.
Select 'Devices'.

Under 'Noise suppression', select 'High' if available or 'Auto'.
The 'High' impression mode filters out all background noise, such as pen-clicking, a creaking of the sound of chips, or any other unnatural noise.
In our tests, we observed that this feature works great, but it requires support for Advanced Vector Extensions 2 (AVX2) in your computer's processor. For some reasons, you cannot use this feature when the meeting is being recorded.
The new distracting-free calls feature currently works in Microsoft Teams for Windows only and we don't know when it'll arrive on mobile devices.
In the coming weeks, Microsoft will also begin rolling out multiple accounts and praise badges support in Teams for desktop.