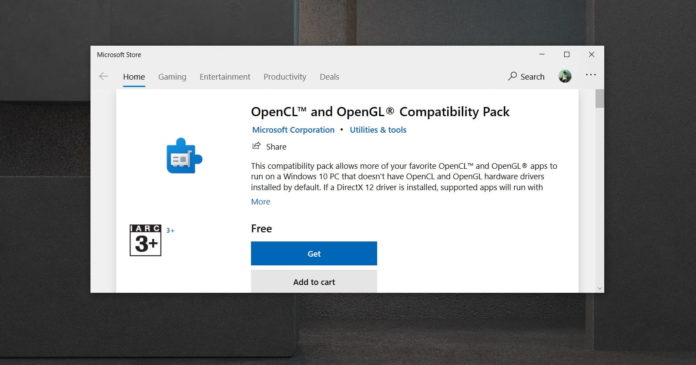 Earlier this year, Microsoft announced that it's working on enabling support for OpenCL and OpenGL mapping layers in Direct3D 12 (D3D12) for Windows 10.
To enable mapping layers and address compatibility concerns when OpenCL and OpenGL hardware drivers are not present on your device, Microsoft has now published the compatibility package in the Microsoft Store.
The compatibility package is titled "OpenCL and OpenGL Compatibility Pack" and it's currently available for download from the Microsoft Store (previously known as Windows Store).
The compatibility pack is aimed at systems running Windows 10 May 2020 Update, Windows 10 October 2020 Update or newer.
In the product listing, Microsoft noted that this compatibility pack lets you run OpenCL and OpenGL apps on your device when appropriate hardware drivers are missing or not enabled by default.
Microsoft explained that Windows 10 will automatically launch supported apps with hardware acceleration feature enabled to improve performance.
This feature works only when your device and app support DirectX 12.
It's also worth noting that only certain apps will be using this compatibility pack, but Microsoft says it's working on a bundle that will allow more apps to use the compatibility layers. Windows Insiders can get a preview version of this bundle and use it to run more apps.
Microsoft hopes that the compatibility layer will make things easier for both developers and users. Currently, not every Windows machine has great native support for OpenCL and OpenGL, and the mapping layers will improve compatibility.
OpenCL and OpenGL compatibility package for Windows 10 will also help productivity and creative apps, so it's really not just about games.
Microsoft is encouraging developers to port their apps and games to DirectX 12. For now, Microsoft hopes that the developer community and users will benefit from the Windows 10 compatibility layers offered via the Microsoft Store.
If you're interested, you can head to the Microsoft Store and download the app.