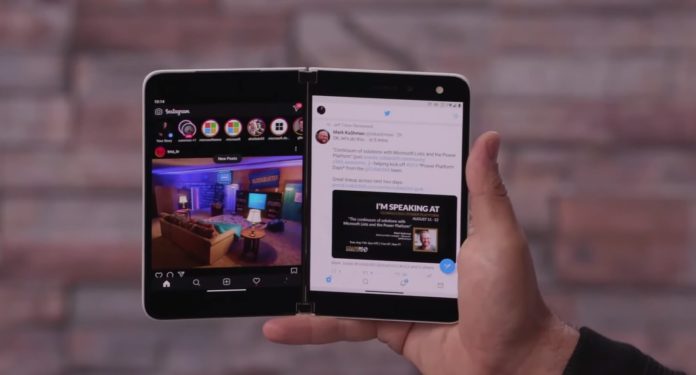 The Microsoft Surface Duo, the dual-screen revolutionary hardware unveiled in 2019, is now shipping in the United States. Microsoft is charging $1,399 for the Surface Duo with 128GB of storage. If you want 256GB of storage, you need to pay $1,499.
The device uses last year's Qualcomm Snapdragon 855 processor, 6GB of RAM, single 11-megapixel camera, and relatively small 3577mAh battery. It's pocketable at 145.2mm x 93.3mm x 9.9mm (thinner than the Galaxy Note 20 Ultra) and it's more like a tablet than a phone if you use it with both screens open.
Surface Duo ships with the heavily skinned and specified version of Android rather than Windows (Phone) and it also comes with Play Store.
While there's no app gap problem and all your Android apps should just work, some apps will work best only if they're optimized for the dual screens and fully leveraging hinge-based form factor.
Microsoft also made the rather surprising revelation that it worked closely with Google to optimize the platform for a dual-screen future. That includes not just the Android 10/11 but also apps like Google Play Music, Maps, and Chrome.
Based on the reports from users across social media platforms, here's a list of apps optimized for the dual-screen.
Surface Duo optimized apps
Microsoft Edge.
Microsoft To-Do.
Microsoft News.
OneDrive.
Outlook.
Office.
OneNote.
Solitaire Collection.
Google Chrome.
Google Play Books.
Amazon Kindle
Adobe Acrobat Reader.
The Surface Slim Pen, which seems important to the dual-screen experience, is also optimized to work with these apps.
A phone like the Surface Duo requires support for dual-screen that Android hasn't supported before. As a result, the list of optimized apps doesn't cover the majority of the apps that users use daily, but the good news is that more apps developers are planning to update their apps with dual-screen support.
Thanks to that close collaboration with Google, Microsoft should be able to convince more people to build apps for its Surface Duo and future dual-screen hardware.