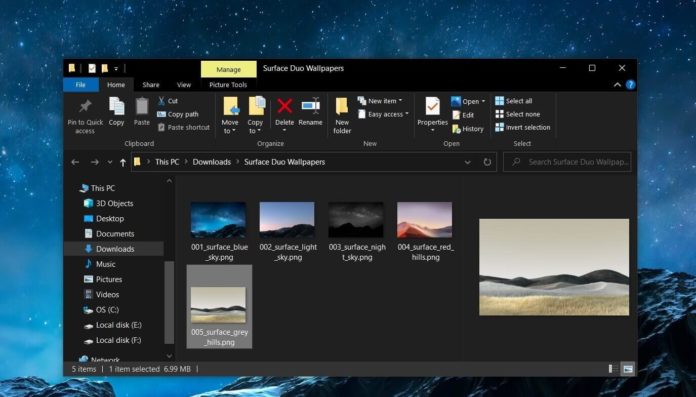 Last year, Microsoft surprised everyone by introducing the world to the future of computing through its dual-screen Surface Duo and Neo. While the Surface Neo and Windows 10X won't be coming to the public anytime soon, Surface Duo is already available and we now have the wallpapers included with the device.
Microsoft has confirmed that you can now buy the Surface Duo if you're in the United States and those who pre-ordered the phone should either receive it today or later this week.
Surface Duo ships with Android 10 and its bootloader is fully unlockable, which means that you can get custom ROMs running on the dual-screen hardware.
Like every other developer and consumer-friendly Android OEM, Microsoft has also published the factory image for the Surface Duo, so you can easily recover the device if it doesn't boot anymore.
The factory image of the Surface Duo also gives us access to the wallpapers shipped with the dual-screen phone. Microsoft's wallpaper pack for Surface Duo is a theme that features five premium high-quality images that you can also apply to your desktop running Windows 10.
With Windows 10's personalization settings, you can also cycle through each of the images automatically by pausing on each for a select amount of time before switching to the next wallpaper.
Here's what to do to get the Surface Duo wallpapers for Windows 10:
Head to Dropbox page.
Click on the 'Downloads' button to save the .zip file.
If you want to create a slideshow using these five wallpapers, follow these steps:
Make a new folder and place the wallpapers you want to use.
Name the images appropriately as the slideshow will go through the folder in alphanumerical order.
Open Settings > Personalization > Background.
Click the "Background" box.
Select the "Slideshow" option.
Click the "Browse" button, and then locate the folder containing your Duo wallpapers.
Once done, you can also customize the frequency under "Change picture every" section.