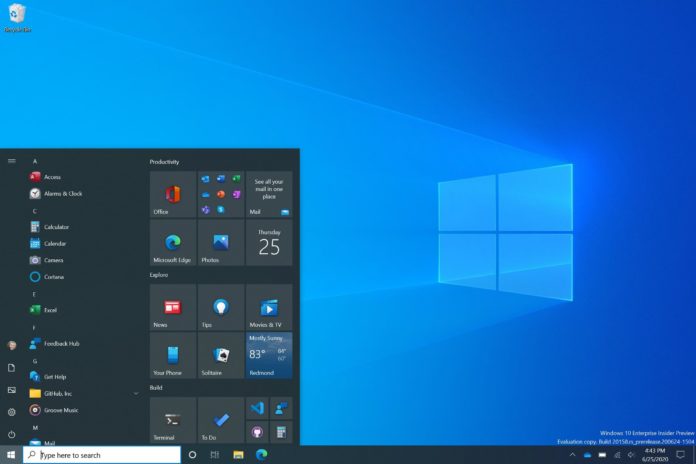 Fresh evidence has emerged that the next version of Windows 10 called '20H2′, which was published to commercial customers for validation or testing, is being finalized and the big rollout could start in the coming months.
It's based on the fact that users have found (electronic software delivery) images for Build 19042.450. ESD is known as Electronic Software Delivery and Microsoft uses this file format to deliver Windows Update files for installation.
We don't know if this could be the final release candidate otherwise known as the RTM build because Microsoft has not yet provided the update to the testers in the Release Preview Ring.
This discovery also adds a little more weight to the possibility of Windows 10 version 20H2 update completion, which we had already guessed earlier this month when Microsoft stopped adding new features.
It's believed that Microsoft will promote the update to Release Preview Channel and publish the ISO images in the coming weeks.
As we know, Windows 10 version 20H2, also known as version 2009, is a minor update to Windows 10's May 2020 Update (2004). The update will be delivered via an enablement package that will switch on the additional features in the OS and offer a "remarkably fast update" process.
Microsoft stated that only those with May 2020 Update and June 2020 monthly patch will be allowed to get version 20H2 update via the enablement package.
Commercial customers (aka enterprises) can head to Windows Server Update Services (WSUS) and begin testing the update. Others should wait for the update to arrive in the Release Preview Ring before enrolling their devices into the Windows Insider program.
The new features, such as the updated Start Menu and Alt-Tab experience, were already added to Windows 10 version 2004 with a cumulative update. If you can't wait for the upgraded Start Menu experience, you can always hack the Registry and enable the hidden features.
In addition to the new Start Menu, the next update will also ship with the new Microsoft Edge (Chromium edition), Alt-Tab app switcher improvements, and other tweaks.