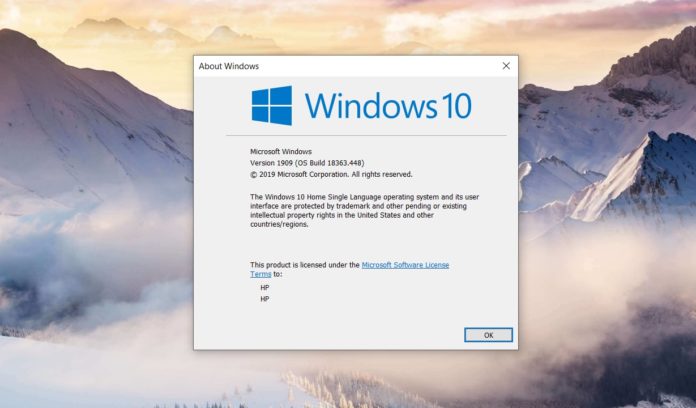 If you're on Windows 10 version 1909 or 1903, Microsoft is rolling out a new update for your device with security fixes. Microsoft has also published the direct download links for Windows 10 KB4565351 offline installers, which are helpful when you have to update multiple PCs.
KB4565351 for version 1909 and 1903 will advance your devices to Windows 10 Build 18363.1016. With today's update, Microsoft says it has resolved security issues and other general bugs.
It's worth noting that this patch is only for Windows 10 version 1909 and 1903. If you're unsure about the build your PC is using, open Windows Search and search for 'winver'. In the dialog, if you see 'version 1903 or 1909', you'll be getting Build 18363.1016, which is highlighted in this article.
For those who have upgraded to Windows 10 version 2004 (May 2020 Update), you'll be getting Build 19041.550 with identical fixes.
Download Links for Windows 10 KB4565351
Windows 10 KB4565351 Direct Download Links: 64-bit and 32-bit (x86).
Windows 10 KB4565351 (Build 18363.1016) Full Changelog
According to the official changelog, Windows 10 Build 18363.1016 fixes issues with Internet Explorer and old Microsoft Edge. Likewise, there are security improvements for input devices such as a mouse, keyboard, or pen.
In addition, you can expect security improvements for basic operations, verifying usernames and passwords on Windows.
It's worth noting that there are additional fixes for Windows 10 if you haven't applied the July optional patch.
After applying the update, you'll be able to delete previous terms from the search box in the File Explorer. In addition, Microsoft has fixed an issue where the File Explorer stops working when you browse the location of raw and other file types.
Other notable bugs which get fixes include an issue where Windows 10 prevents the device from recognizing the Windows Hello face camera. In addition, Microsoft has fixed an issue that prevents family safety features and wireless wide area network (WWAN) LTE modem.
Another bug has been addressed where you cannot upgrade from Windows 10 version 1903 or version 1909. Microsoft says the problem occurs when you connect your device to Azure Active Directory and BitLocker is enabled.