Microsoft's revamped Edge browser, which is based on the same Chromium code that powers Google Chrome, is getting several new PDF features. The classic Microsoft Edge has been described by users as the best PDF client on Windows, and it's also the default PDF reader.
In addition to Fluent Design and other features, advanced PDF capabilities are also missing in Chromium Edge. It doesn't necessarily mean the company is giving up on creating PDF features for its browser.
Microsoft Edge recently gained support for 'Highlight mode', which allows you to highlight important points in PDF by directly selecting texts. You don't have to click on a highlight button when you enter highlight mode in Microsoft Edge.
Microsoft Edge is all set to get even more PDF features, including smooth scroll experience of the classic Edge. In addition, you'll be able to able to access the Table of Contents (Index) of PDF-based novels or books and navigate through the story using the chapters.
Here's a list of all the upcoming PDF features for Microsoft Edge:
Text notes feature will allow you to add your own notes to text in PDF files.
The next update will also add support for 'Protected PDF files' and add a layer of security to your documents. This feature restricts the access of the documents to users who have certain permissions such as view, copy or annotate.
You can soon view labels of protected files.
Adds support for MIP protected files.
Accessibility: Support to fill PDF forms using screen readers and you can also use caret mode to navigate through PDF documents.
These improvements are in addition to existing capabilities like dark mode, forms, and others.
Microsoft Edge release schedule
Recently, Microsoft shared a bit more clarity into how it plans to update the Edge browser in the coming months.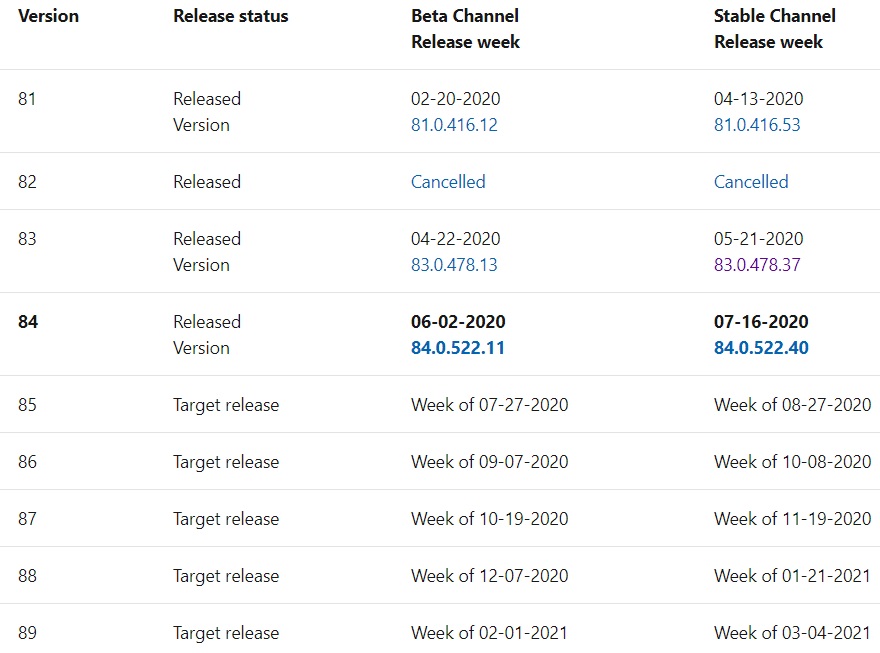 According to the roadmap, the next major release is Edge 85 and it is supposed to go live in the beta channel next year. Likewise, the next stable update for Edge will likely land in the last week of August unless a major roadblock is reported.