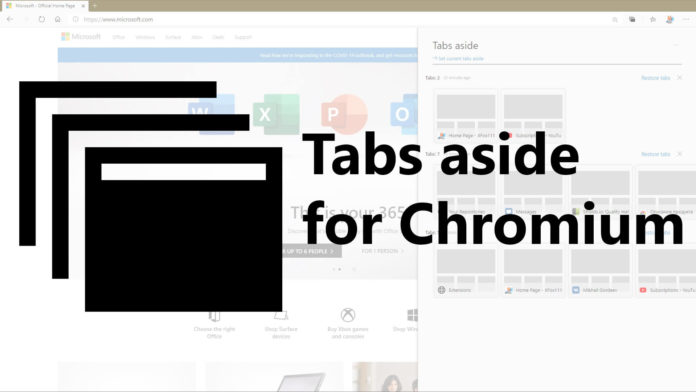 The Microsoft Edge was originally announced with Windows 10 in 2015 and it shipped with a number of exclusive features, including PDF markup tools and 'Set Tabs Aside' button, which was a great way to help users cut down on tab clutter.
With the feature, Microsoft allowed Edge users to set tabs aside and access the pages again at a later time. Tabs Aside is useful when you have a lot of tabs open and you need to banish tab clutter without losing those tabs. When you set a tab aside, the tabs are grouped by when they were minimized in Microsoft Edge.
While the Set Tabs Aside option hasn't yet been implemented in Chromium-based Microsoft Edge, a developer has created a new extension called 'Tabs Aside' and it allows you to create tab stacks to banish tab clutter without losing the track of those tabs.
The extension is available for both Google Chrome and Microsoft Edge.
Like UWP Edge's Set-aside tabs feature, you can use this third-party extension to open each tab individually from its large thumbnail.
The extension will group your tabs aside in a temporary workspace and you can access it from the extension menu bar.
Tabs Aside extension offers a Microsoft Edge-like user interface and it also respects your browser's dark theme.
You can download 'Tabs Aside' extension from Chrome Web Store and Microsoft Edge Add-ons store.
After installing the extension, you can access the feature from the browser's extension menu and tabs will be stored in a list that's sorted by when they were set aside.
Microsoft hasn't revealed when it plans to bring the original Tabs Aside experience to Edge browser. Last year, the company talked about the possibility of bringing Tabs Aside and other features from the old version of Edge, but no guarantee was given.