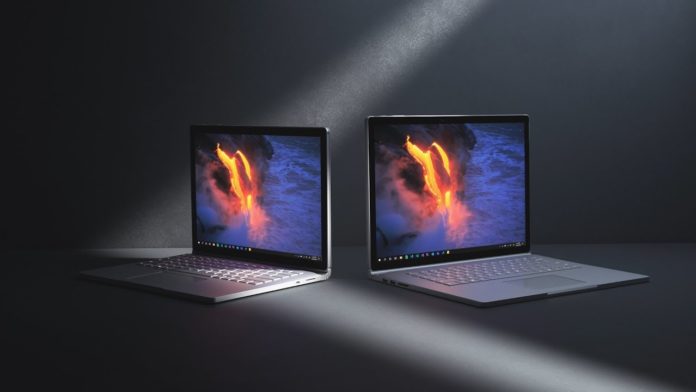 After two and a half years, Microsoft has finally announced the next-generation Surface Book. The Surface Book 3 is Microsoft's latest detachable PC and it comes with internal specs bump, but the device doesn't change much in terms of the design.
As we spotted in the certifications, Surface Book 3 comes with Intel's 10th-generation 'Ice Lake' instead of Comet Lake CPUs. Surface Book 3 will have better performance than the predecessor, thanks to Intel's 10-nanometer 10th Gen Ice Lake CPUs.
For Surface Book 3, Microsoft is currently offering two CPU options—Core i5-1035G7 and Core i7-1065G7. Both chipsets have the Iris Plus Graphics and Core i7-1065G7 CPU is the second-fastest Ice Lake U-series chip in the SKU.
The CPU has four cores, eight threads and a max turbo frequency of 3.9Ghz, but only the 15-inch variant comes in a Core i7 flavour. Unfortunately, the Core i5 models don't have dedicated graphics.
Surface Book 3 with a 13.5-inch display is powered by Nvidia GeForce GTX 1650 and it comes with Max-Q Design and 4GB GDDR5 memory. For the 15-inch variant, you'll get GeForce GTX 1660 Ti with Max-Q Design and 6GB GDDR6 memory.
The GeForce GTX 1660 Ti with Max-Q Design and 6GB GDDR6 memory allows you to play top games Xbox Game Pass at 1080p with 60fps.
Microsoft will bundle Nvidia Quadro RTX 3000 GPU with Surface Book 3 for the commercial customers. The Nvidia Quadro RTX 3000 GPU support real-time ray tracing, DLSS and other features that you won't get from the GeForce GTX lineup.
The appearance and display of the Surface Book 3 is the same as the Surface Book 2. For 13.5-inch model, there is 3000×2000 resolution with 267ppi pixel density. On the other hand, the 15-inch model comes with 3240×2160 resolution and 260ppi pixel density.
The Surface Book 3 starts at $1,599 and you can pre-order the flagship device from the Microsoft Store.