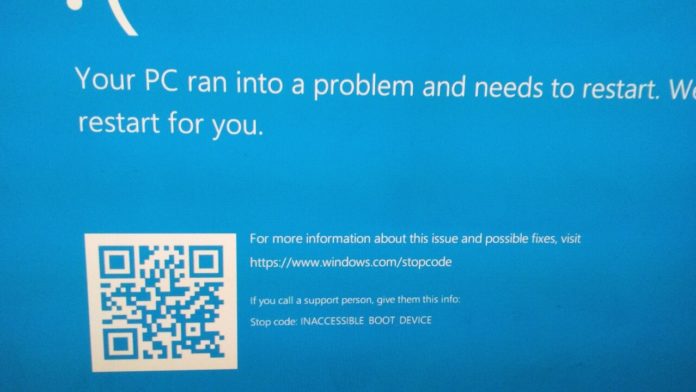 Some users are reporting Blue Screen of Death (BSOD) errors after installing Windows 10 KB4549951 update, which is the cumulative update that also causes data loss for a group of users.
On April 14, Microsoft started rolling out Windows 10 KB4549951 for version 1909 and 1903. This patch was supposed to bring a number of security fixes and it was also supposed to be a minor release with focus entirely security-related fixes, but KB4549951 leads to dreaded Blue Screen of Death and system failure.
If you're getting a blue screen on your PC after applying recent Windows Update, it's not just you and the issue appears to be widespread. The Blue screen does give users general stop error codes, but these stop errors are complex and there's no specific pattern, which makes it essentially impossible to understand the cause of the mess.
After deploying KB4549951, users have reported the following BSOD stop codes:
PAGE_FAULT_IN_NONPAGED_AREA
CRITICAL_PROCESS_DIED
ACPI_BIOS_ERROR
INACCESSIBLE BOOT DEVICE
MEMORY_MANAGEMENT
DPC_WATCHDOG_VIOLATION
Portcls.sys
It's common to see these error codes as a result of damaged installation files, drivers, and third-party security software compatibility issue with Windows 10.
Some users are also reporting a loop of Blue Screen of Death and complete system failure.
Until Microsoft issues an advisory or a hotfix, your best bet is to uninstall the Windows 10 April 2020 cumulative update and it's worth doing, even if it means that you won't have latest security fixes.
If you're unable to access the desktop, you'll need to get into Safe Mode to make those changes happen. First and foremost, hold the Shift key while clicking Restart and get around the boot menu, and then go through Troubleshoot > Advanced options > Startup settings and click on 'Restart'.
In Safe Mode, you can head to the Control Panel and safely uninstall the patch.
File deletion bug
If that wasn't bad enough, the update also appears to delete or move files for some users.
In some cases, users are reporting that their documents, pictures, files and personal settings were removed after updating their devices to Windows 10 KB4549951.
This appears to be a return of an old issue where Windows 10 boots with a temporary user profile which removes settings, some files, and icons from the desktop.
"This update is a disaster. It deleted my files, pictures, documents saved in system drive and as well as my apps which I downloaded from Windows Store," one user wrote in our comments.
"I guess this latest update happened last night. I switch on this evening and all my personal settings are deleted. No bookmarks in Firefox or Chrome. I don't want Bing or Internet Explorer. Wallpaper removed," a user documented a similar issue in Microsoft's forum.
"Windows 10 is unable to locate system default user account after installation of KB4549951. This failure has occurred for the last 3 cumulative updates so they were each unistalled and hidden," another user noted.
"Data lost after upgrading [to] KB4549951. All files in Documents more than 1 week old are deleted without notification or moving to the Recycle Bin. No restore available, no help, no live chat, no nothing," writes a frustrated user.
"My system automatically updated on the 19th of April. I lost some important word files of my university. And a folder. I have looked on the temporary folders and I have tried to uninstall the update but they do not appear," another Windows 10 owner said.
There are even some problems with the system performance, to add to this nightmare update.
Microsoft has yet to comment on these new problems, and as we stated so far it seems like uninstalling the update is the best and safe solution.
Let's hope the company takes its time ironing out issues before releasing the next major Windows 10 update, which is expected sometime in May.