Microsoft uses two screens in its folding Surface Duo phone, but how about a folding device that uses three? Microsoft has patented one new smartphone design that comes with a third screen on the hinge and the hardware could be the company's next innovative device if it gets approved by the Surface team.
According to the patent spotted by us, Microsoft appears to be working on a dual-screen device that can fold inwardly or outwardly like the Surface Duo and Neo. It has two main displays, but it also includes a third display or status bar on the hinge.
In the filing, the Redmond firm explains that typical smartphones have a single screen where all relevant information is displayed to the user. Some information such as notifications of calls or messages may be overlooked by a user and Microsoft aims to address these problems with its patented idea.
The third screen which is called 'edge screen' is the screen region of the hinge and information would be displayed on edge screen based on the orientation of the device.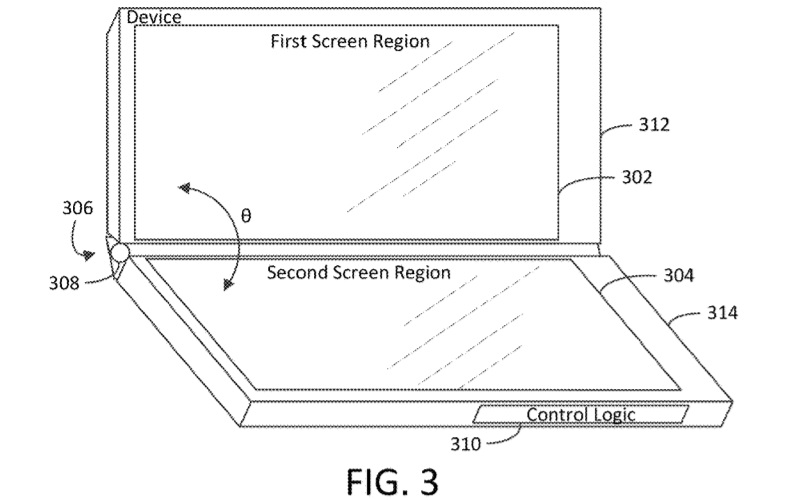 The edge screen information may be limited. For example, you'll find basic information such as virtual controls, bookmarks of a browser, notifications, time, remaining battery power, user profile, ability to move content from one screen region to another, and indication marks for running apps and connected devices.
Microsoft says the information displayed on the screen region of the hinge depends on the user's current intent. Microsoft would be able to understand if a user is interested in additional information that can be displayed on the third screen.
For example, when the device is closed, the third screen may display notifications such as the number of missed calls and unread text messages.
Similarly, global information about the hardware such as app controls, multi-tasking and other features will be displayed when first and second screen regions are opposing exterior surfaces of the device. or in a tent state.
While we're not sure if the patent will manifest in actual products, this is yet another confirmation that Microsoft is putting some thought into innovating the traditional foldable concept.