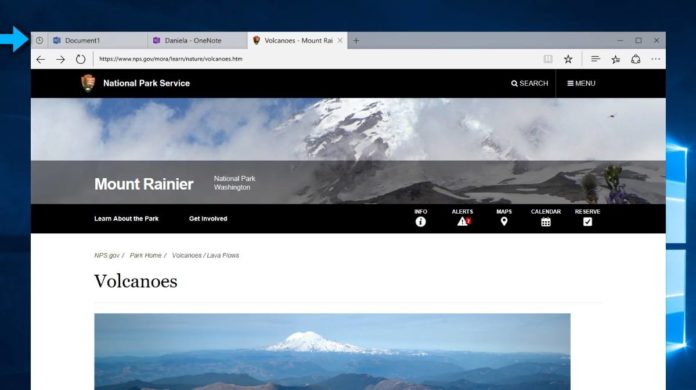 The preview builds of Windows 10 Redstone 5 update included 'Sets' feature that allowed users to add tabs to almost every window. Microsoft said Sets will add browser-like tabs to almost every app's window and it was supposed to support traditional desktop apps too, which means Sets would add tabs to File Explorer as well.
Windows 10 Sets was shortly removed from the preview builds and Microsoft confirmed that Sets feature likely won't return any time soon. As we reported recently, references to Sets showed up in SDK build 19577, suggesting that Microsoft could bring back Sets in a future Windows 10 update.
In addition to Sets, Microsoft also experimented with a new Alt+Tab experience where users can switch between the tabs within Sets inside the Alt-Tab switcher.
If a new report is believed to be true, Microsoft may bring back the experimental Alt-Tab experience and Chromium Edge could be the first app to support it.
This is likely to be part of restoring Sets experience on Windows 10 as Sets changes how Alt+Tab works by allowing tabs of an app to appear in the Alt+Tab switcher. In near future, up to five recent tabs of Microsoft Edge will show up in Windows 10's app switcher, which can be accessed with Alt+Tab keyboard combination.
Currently, when you press Alt+Tab, Microsoft shows windows of open apps. In a future update, Microsoft will show multiple tabs of Microsoft Edge in Alt+Tab app switcher. For example, if you have three open tabs in Microsoft Edge, you'll see three different thumbnails in the Alt+Tab view instead of one.
As Edge is based on Chromium, other browsers such as Chrome will also support Windows 10's new Alt-Tab switcher.
USB4 support for Windows 10
In related news, Microsoft is working on Windows 10 drivers with proper support for USB4 devices in the latest preview build. You can expect Windows 10 devices with USB4 technology later this year.
USB4 was announced by the USB Promoter Group back in the first half of 2019 and the new standard is based on Intel's Thunderbolt 3 protocol, which has been designed to deliver up to 40Gbps speeds.
The USB4 specs have been finalized and some tech companies are already launching USB4-ready devices.