Way back in 2018, Microsoft announced a new Windows 10 feature called 'Sets' to blur the line between desktop apps and web pages. Sets are essentially tabs for File Explorer, Office, and every other app in Windows 10, so you could quickly open multiple apps in the same window.
The idea behind Sets was incredibly simple—organizing your work. With Sets, Windows 10 could provide users with the ability to organize their apps, documents, web browsing session, and tasks into one tabbed window.
In any version of Windows, you can only open one app within a window (the container), but Sets was set to add tabs into such window containers.
Sets would have allowed users to group apps, websites, and other information in tabs. For example, Sets would have allowed users to open multiple tabs of File Explorer in the same window, so you could quickly find and compare a file. You could also add Notepad to the File Explorer tab and jot down the information.
Windows 10 Sets feature was supposed to debut in 2018, but Microsoft reportedly stopped developing the feature as it was generally not well understood by testers.
If you thought tabs could now only be found in browsers, Windows Terminal, and third-party applications, think again. In Windows 10 v19577 SDK, the references to tabs are back and it looks like Microsoft is still working on Sets, or on a similar feature for some apps on Windows where it would make more sense.
The SDK includes references to WindowTab, WindowTabIcon, WindowTabManager, and WindowTabGroup, which suggests Windows 10 tab-based interface is still a thing and it could debut in preview builds soon.
When Microsoft first unveiled Sets, executives said the feature will support both UWP and Win32 apps. The feature also supports continuity, which means Microsoft will allow you to restore tab groups that you previously opened.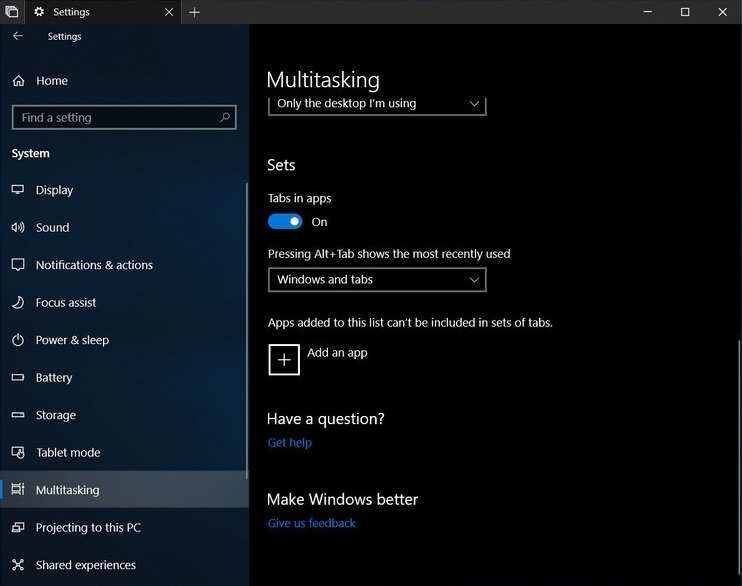 The ambitious Windows 10 tabs interface was also supposed to sync and restore your app groups across desktop devices. In 2018, Microsoft said it would use the integration of Microsoft's Timelines tool for Sets, so users could restore app groups across numerous platforms.
Windows Insiders have had access to Sets in 2018, so it's likely that feature will first arrive for the Insiders if it ever gets finalized again.