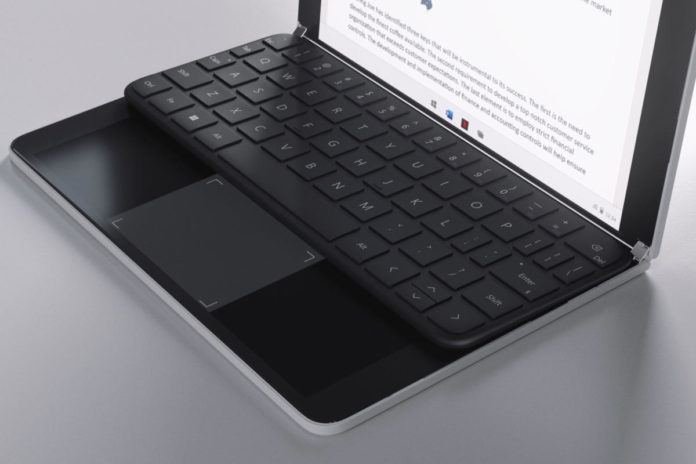 Microsoft unfolded Surface Neo at its October 2nd event in the New York City and it comes with the wraparound keyboard accessory. The actual work requires a keyboard and Microsoft is trying to achieve flexibility by bridging the gap between users who prefer real keyboard and those who type on the touchscreen.
Surface Neo, which runs Windows 10 X, supports a magnetic keyboard that covers the two-third of one screen. Microsoft's new operating system recognizes the keyboard and it shrinks the one-third of the display to render a rich input area where you can open certain apps or emojis.
In a new patent filing titled 'MECHANICAL KEYBOARD OVERLAY FOR TOUCH SCREEN', Microsoft has discussed how it plans to build a Surface product with a mechanical keyboard that sits above one of the displays. This also suggests that Microsoft plans to use a mechanical keyboard layout for Surface Neo and possibly other dual-screen products.
Microsoft patent says traditional devices have a mechanical keyboard, but touchscreen present a virtual keyboard and experience is not as good as a mechanical keyboard. The patent addresses the problem with a mechanical keyboard for use on a touch screen.
According to the Redmond firm, Surface mechanical keyboard may come with individually and resiliently depressible keys that include a user-facing outer portion and a screen-facing.
"The network of electrical conductors is configured to conduct a drive signal to the inner portion of the key, the drive signal being received, during the depression of the key, at a locus of touch screen directly beneath the key," the filing reads.
Microsoft also noted that the accessory includes a hinge to enable the mechanical keyboard to fold onto or behind the touch screen.
"The hinge allows almost 360° of rotation, which enables the mechanical keyboard to be folded onto touch screen for use or behind touch screen for stowage. In other examples, different keyboard mounting and stowage configurations may be employed, including some in which the mechanical keyboard is permanent attached to the electronic device.
Interestingly, keyboard keys could be substantially transparent or substantially translucent where the keys may comprise very thin wires and or films formed from a degenerately doped semiconductor.