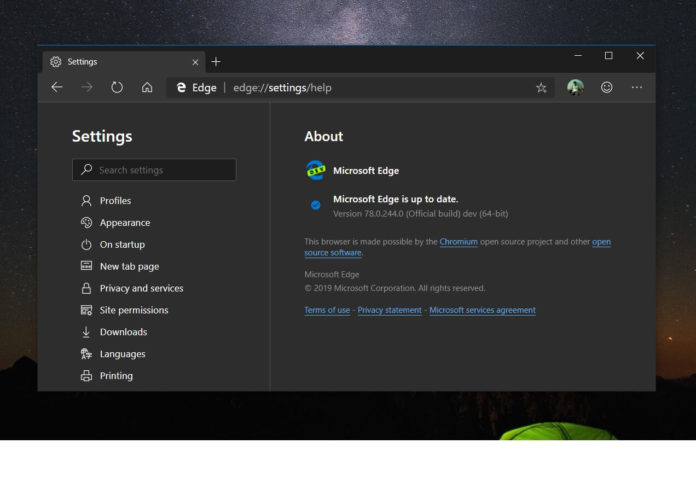 Microsoft has said that the new Chromium-based Edge browser will be available for Windows 10, Windows 7, and macOS starting January 15, 2020. Microsoft will offer standalone installer of Microsoft Edge for all supported platforms, but the new Edge will be bundled with Windows 10 as well.
This means Chromium-based Microsoft Edge will replace the classic Edge browser right after the general availability. As we previously reported, Microsoft will be delivering its new Chromium-based Edge users via Windows Update and no action is required on your end.
All your Start menu tiles, shortcuts, taskbar icon and data will migrate to the next version of Microsoft Edge automatically. Microsoft also noted that all attempts to launch classic Edge will redirect to the new Edge, but you'll be able to run both browsers simultaneously by making changes to Group Policy.
In late November, Microsoft's support document quietly revealed that it's possible to run both versions of the browser simultaneously if you tweak the Group Policy settings.
According to Microsoft and our own testing, Chromium Edge (stable) hides the classic Edge browser at system-level. If you want to see both versions of Edge, you need to use Group Policy and follow these steps:
Search Group Policy Editor in Windows Search.
Navigate to Computer configurations.
Open Administrative Templates > Microsoft Edge Update > Applications
Select "Allow Microsoft Edge Side by Side browser experience".
Click 'Edit policy' setting.
Select 'Enabled' and click OK.
Microsoft recommends users to enable this option before the new Edge browser is deployed; otherwise, you need to run the installer again for changes to reflect.
It's worth pointing out that the Group Policy Editor is only available in Professional and Enterprise editions of the Windows 10.