Microsoft will no longer update or support Windows 7 after January 14, 2020. Windows 7 was launched on July 22, 2009, and it's decade old at this point, but the operating system is still incredibly popular, with Netmarketshare stating that the OS is being used on 28% of Windows PCs.
Since support for Windows 7 is ending in less than three months, Microsoft has started sending upgrade warning to more consumers. In one of our virtual machines with Windows 7 Professional license, Windows 7 end of support notification popped earlier today, which reminds users about moving on from their favourite operating system.
A message titled 'Support for Windows 7 is coming to end' comes with the following details:
"Please note that after January 14, 2020, Microsoft will no longer provide security updates or technical support for Windows 7. We recommend backing up your files to ease the transition," the message reads. The link opens Microsoft's dedicated page for Windows 7 which states various reasons to make the shift.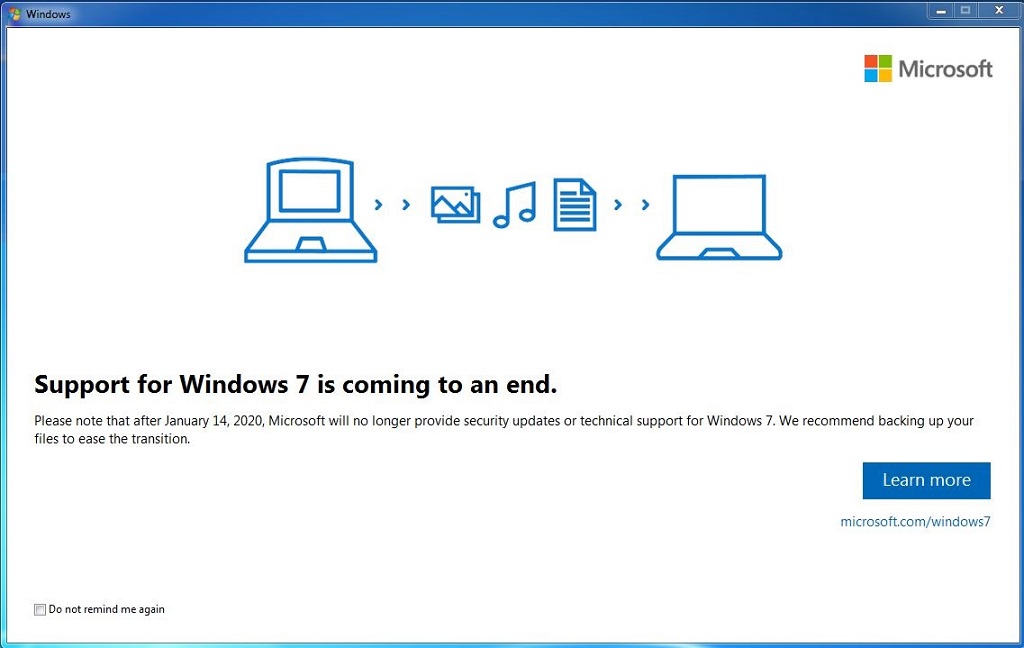 Fortunately, Windows 7 users can dismiss this notification by checking 'Do not remind me again' box.
If you're one of those people who have received the above notification, it's time to begin preparing for Windows 7 End of Life. You have two options – use the Windows 7 product key to upgrade to Windows 10 for free or use Windows 7 without important security patches.