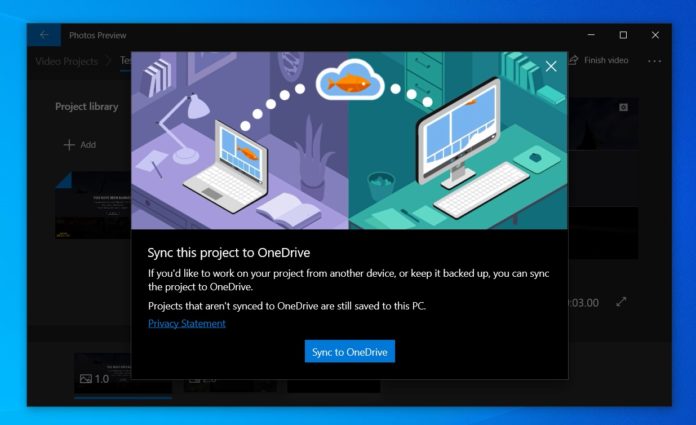 Windows 10 Photos app has a video editor that allows you to trim videos or create your own video projects or slideshows. The video editor works a bit like Windows Movie Maker and it can also automatically create a video slideshow with your photos.
The video editor in Photos app can also sync video projects and metadata to OneDrive. As Windows 10 Photos app continue to evolve, certain bits of functionality are ditched, and Microsoft has quietly announced that the OneDrive video project syncing feature is being removed in January 2020.
This feature will be retired on January 10, 2020, according to a new Microsoft support document. Microsoft notes that metadata (a term used to label and organize video information) for any of synced video projects will be deleted from cloud and Microsoft will not recover them.
The metadata of a synced video project includes all necessary information such as the order of video clip, music timing and as well as text for the title cards.
Microsoft also confirmed that you won't be losing any of the actual photos, videos or anything else that you have in your OneDrive. This change only affects video project (slideshows) that you have created with Photos app and synced to OneDrive.
Microsoft has already updated the Photos app with the following warning message:
Syncing video projects to OneDrive is going away as of January 10th, 2020. We recommend turning off sync now to make sure you have the latest version on this PC.

If you work on your video projects from one device and syncing is enabled, you shouldn't worry about this change as Photos app is already locally storing the metadata. If you edit your video projects from more than one device, you should save the latest version of your edits locally, otherwise, you may lose access to the important metadata next year.
To save a copy of the latest versions of video projects, simply select the 'Turn off sync for all projects' link in the warning message. You will have to repeat this step on all of the devices where you have edited video projects.
Also, remember that the Photos app will no longer sync video projects to OneDrive after you turn off the sync feature.
Manually backup your projects to OneDrive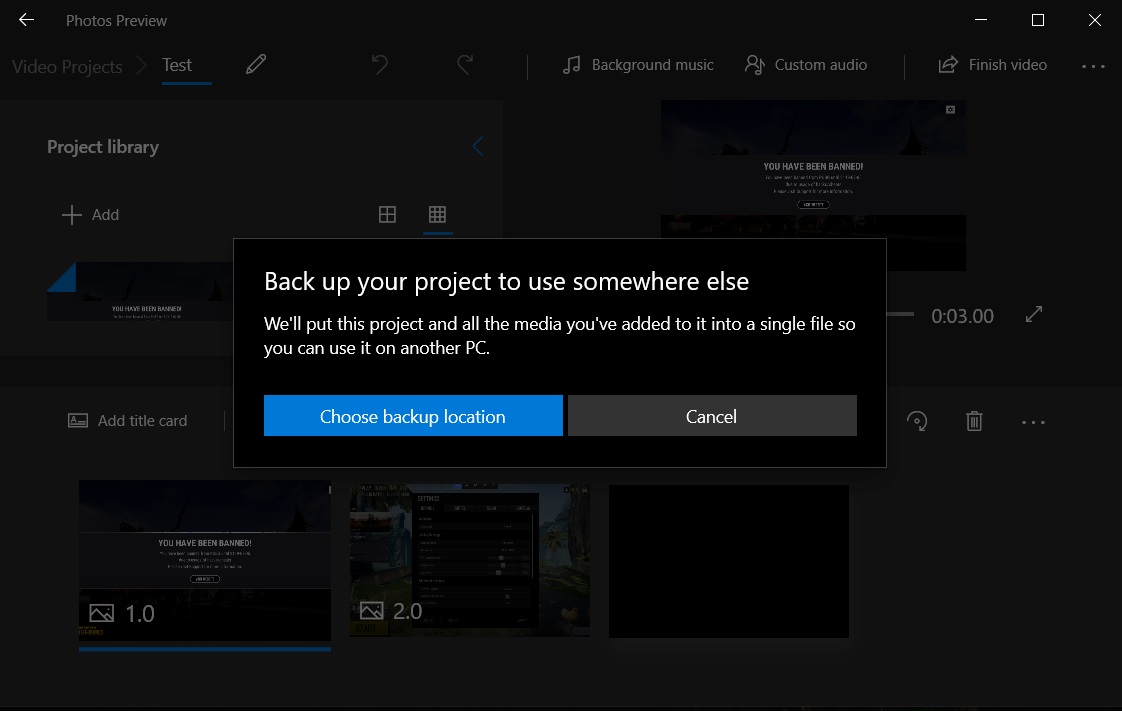 A similar feature has been incorporated into the Photos app under Settings. However, it does not automatically sync the contents.
After turning off the sync feature, follow these steps to manually backup video projects to OneDrive:
Open a video project.
Click on 'See more'
Select Back up the project option.
Photos app will create and save a .vpb file, and you can import the file to any of your devices. To do this, select 'See more' option and click on 'Import backup' option.
Microsoft notes that you will have to repeat these steps after every project edits, in order to continue video editing on your other devices.