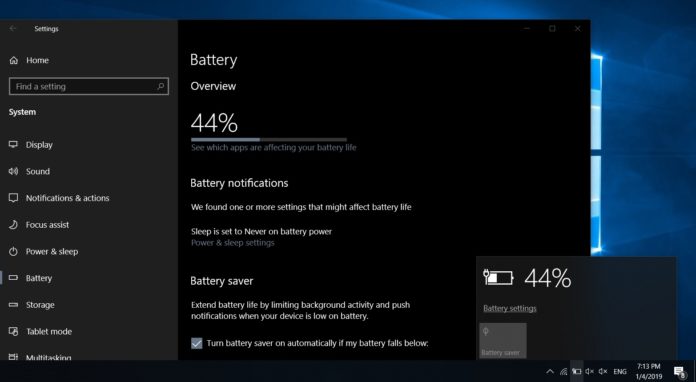 Windows 10 19H2 (Fall 2019 Update) is set to roll out later this year with select performance improvements, quality enhancements and enterprises features. Microsoft also confirmed that Windows 10 19H2 installation on May 2019 Update PCs will be handled more like the monthly patches.
Yesterday, Microsoft released new builds for Windows 10 19H2 with several minor improvements. The smaller improvements were originally introduced in Windows 10 20H1.
Windows 10 19H2, which is due for release later in 2019, could ship with better battery life for laptops or notebooks running certain processors. In the changelog of Build 18362.10013, Microsoft stated that the release also includes general battery life and power efficiency improvements for PCs.
According to the changelog, users will notice better battery backup on certain laptops and power efficiency improvements on PCs.
"We have made general battery life and power efficiency improvements for PCs with certain processors," Microsoft noted.
Microsoft is also adding a new rotation policy to Windows 10 for multiple favored cores. This change should provide better performance and reliability when running Windows 10 on a PC with CPUs that have 'favored' cores.
Windows 10 19H2 should begin rolling out to the general public by October and we're a month or two away from the RTM candidate.
You shouldn't expect major improvements or UI changes in this new release as the focus is entirely on quality improvements.