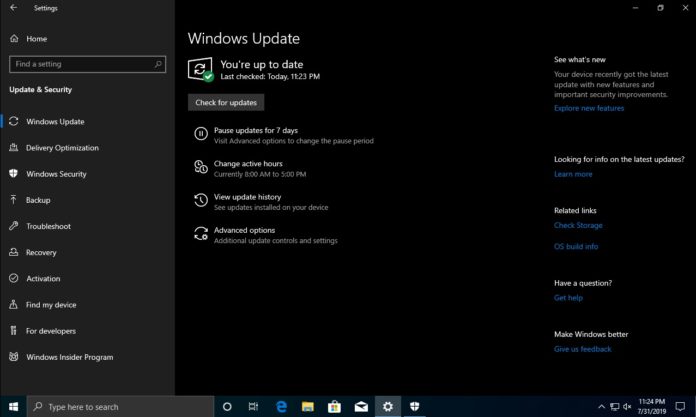 Windows 10 Build 18950 (20H1) is now rolling out to Insiders in the Fast Ring with multiple improvements. Windows 10 Insider Preview Build 18950 introduces an upgraded Snip & Sketch experience, includes a new reference to the rumoured Cloud Recovery options and more.
What's new in Windows 10 Build 18950
Windows 10 comes with a Snip & Sketch tool that you can use to create, annotate, edit, and share screenshots. Today, Microsoft is starting to roll out Snip & Sketch support for zoom & the option to re-use the same window when taking new snips.
The Snip & Sketch app update on Windows 10 20H1 also comes with the following improvements:
Single window mode – Microsoft is adding a new feature that will allow you to open new snips in your current app window. As a result, you don't have to deal with tons of windows that you need to close after editing the snips. If you'd like to use the old experience, you can enable it from the settings.
Zoom: You can finally use the touchpad or double taps on the touchscreen to zoom in on your screenshots. CTRL+Plus/Minus and Ctrl+Mouse wheel are also supported. You can also view the snip at the original size by tapping on the "Actual Size".
WIN+Shift+S is now discoverable: For new users or those who haven't taken a snip yet, Snip & Sketch will help you learn how to start a snip without the app.
Windows 10 Build 18950 full changelog
Microsoft has confirmed that Windows 10 will be getting a new Cloud download feature to reset the system back to the factory settings. The references to 'Cloud download' will show up in Windows 10 Build 18950, but this feature isn't working yet.
Here's a list of fixes and improvements:
The update has fixed an issue that causes ctfmon.exe to crash. The problem was experienced when user clicks on input mode indicator in the taskbar and switch the Japanese IME between modes.
A bug affecting Windows Clipboard History's feature where users cannot paste information from clipboard history on some PCs.
Microsoft has also fixed an issue that may accidentally trigger the Ctrl key in the OneNote app.