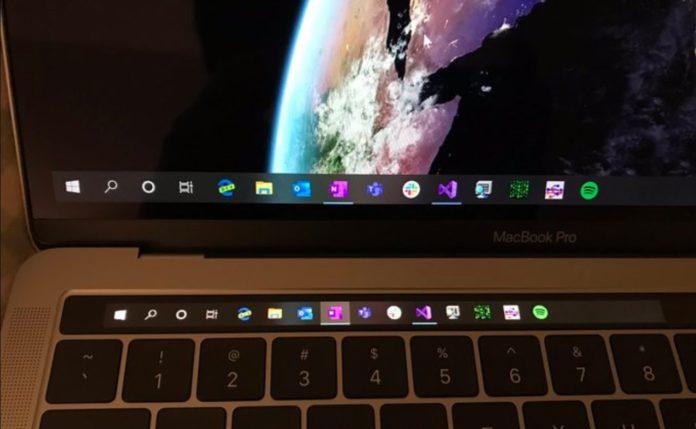 Back in 2016, Apple proudly launched a new lineup of MacBook Pro featuring the OLED touch panel called 'TouchBar'. MacBook Pro's TouchBar is an OLED touch panel that replaces the function keys and it is a mostly useless gimmick.
It looks like MacBook owners will be able to transform the Touch Bar from an OLED panel above the keyboard to a useful feature. As developer Ben noted in a Github post, it's actually possible to make MacBook Pro's Touch Bar useful by replacing macOS with Windows 10.
Independent developer has figured out how to get Windows 10's taskbar running on Touch Bar of MacBook Pro. Unfortunately, you cannot try this out on your device as the project is still in the initial days of development and software or app is not available to automate this process.
The Touch Bar has multiple configurations; the default configuration provides a USBHID keyboard as basic function keys. On the other hand, the second configuration provides a customized USB display device and USBHID Digitizer (TouchPad / Screen).
Windows 10 taskbar support for the Touch Bar requires Microsoft's USB Common Class Generic Parent Driver (USBCCGP) and a modification to the Windows Registry. A driver has been also implemented to support FrameBuffer transfer (display).
The custom-made driver transfer FrameBuffer content to the screen and responses to the touches. All these changes apparently allow the Bridge Display (USB link to the Touch Bar) respond to Windows 10 and render the taskbar on the OLED panel.