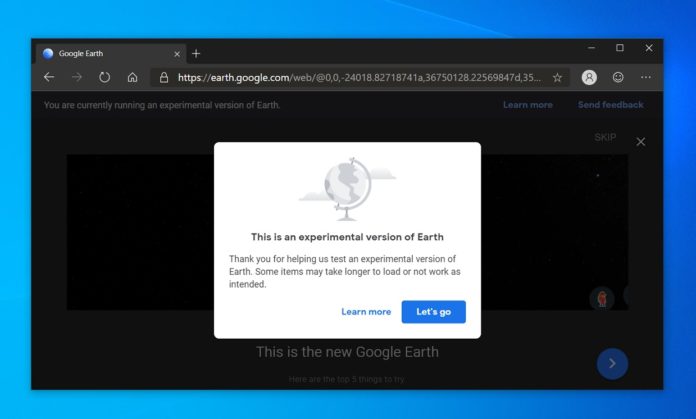 Google Earth has been available on desktop for over two years now, and if you want to run the platform in a browser, you've to use Google's Chrome. Other browsers including Chromium Edge and Opera aren't supported because Google built Earth using Chrome-only technology.
Google Earth is now available for all major web browsers, including Microsoft Edge and Firefox.
Google created Earth web version using Portable Native Client (or PNaCl) and the original Edge or Chromium-based Edge does not ship with the Portable Native Client (PNaCl) component.
Google has been working on WebAssembly-powered Google Earth and a version built using WebAssembly was demonstrated during the Chrome Dev Summit 2017.
Google Earth has been finally rewritten in WebAssembly and the beta version now works on Microsoft Edge, Chromium web browsers and Firefox. The new version of Google Earth offers the same experience as the existing site.
"Once the new version of Edge based on Chromium ships, apps in WebAssembly will work as well in Edge as they do in Chrome," Google said in a blog post.
While Google Earth works smoothly in new Edge, the platform is not fully supported in old Edge as the browser does not have Google Earth WebAssembly (WASM) Beta.
Google Earth in old Edge renders the unsupported warning, but you can try to run it in multiple threaded or single threaded version, and it may work.
"Aw snap! The Google Earth WebAssembly (WASM) Beta is not supported by your browser," the error message reads.
You can choose the multiple threaded or single threaded version and try to run Google Earth again in Edge.
You can try Google Earth from here.