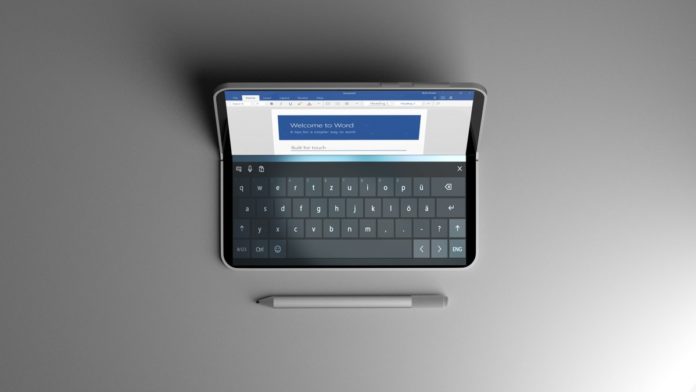 Years later after cancelling the dual-screen Courier device, Microsoft is said to be working on a new lineup of foldable mobile devices. Multiple patents have been spotted on the internet and all implies that Microsoft hasn't totally given up on the idea of dual-screen devices.
Today, we have discovered a new patent application from the Redmond giant and it shows off a flexible stylus attached to a foldable device.
A new patent application titled 'FLEXIBLE CARPENTER'S STYLUS WITH DOCKABLE EARPIECE' was filed by Microsoft in 2017 and published by USPTO on June 13, 2019.
Unlike other patents, this one features a folding device and a stylus having a capacitive stylus nib and an earpiece dock. An earpiece is removably dockable at the earpiece dock. The earpiece includes a speaker, an earpiece battery, and a wireless radio configured to communicatively couple with a host device.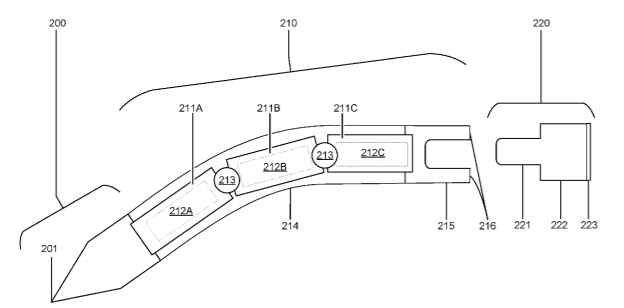 The computer peripheral further includes a charger configured to receive power, and while the earpiece is docked, to use the power to charge the earpiece battery.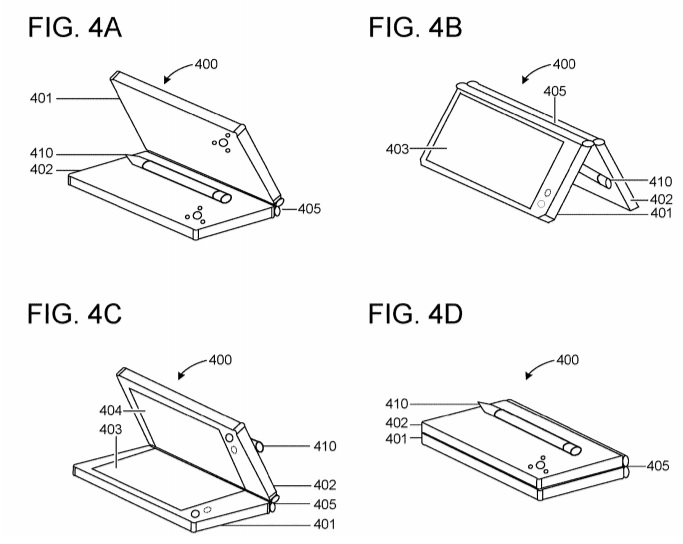 The above figure shows a dual-screen device with a hinge. In another example, the patent shows the same device rotated into a tent pose in which both displays are visible to a user. In all figures, the device has a flexible stylus to the back the housing.
"The flexible portion has an integrated dock that can hold a dockable wireless earpiece. The earpiece dock securely stores the wireless earpiece and provides power to charge a battery of the wireless earpiece. The flexible portion of the carpenter's stylus can be bent into a headset shape, allowing the whole peripheral to be worn over a user's ear. When the carpenter's stylus is worn as a headset, the earpiece remains fully functional. Thus, the user can wear the carpenter's stylus on their ear, while also using the peripheral as a hands-free headset. Alternately, the earpiece can be removed from the carpenter's stylus and used independently of the stylus body as the stylus body is used as a touch input device," Microsoft explains.
This could be Microsoft's vision of stylus use case on a foldable Windows 10 device.