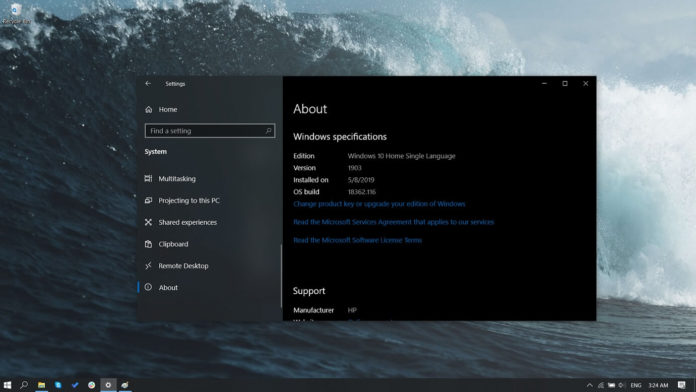 Microsoft has released a new cumulative update for Windows 10 May 2019 Update ahead of the public launch later this month. Microsoft has also released updates for supported versions of Windows 10 with similar fixes and improvements.
In the changelog, Microsoft wrote that the new update for Windows addresses a bug that broke down some of UK government websites in Internet Explorer and Microsoft Edge. It's worth noting that users outside the United Kingdom will also receive the patch on Windows 10 May 2019 Update.
Build 18362.116 also addresses an issue in which installation may fail with the error, "0x800f081f – CBS_E_SOURCE_MISSING." Windows 10 version 1903 still has one known issue where users may experience error 0x800705b4 with Windows Defender Application Guard and Windows Sandbox.
May 2019 Update around the corners
Microsoft is on the brink of finishing work on the Windows 10 version 1903. The company originally said that the update would kick-off at some point in late May, and it appears that it could launch in a few days if no new problems are discovered.
We might see the next big update arrive later this week or early next week, as the month ends in 10 days.
May 2019 Update introduces Sandbox, a new light theme, improved Focus Assist, and much more. Unlike previous versions of Windows 10, the May 2019 Update comes with quality improvements and tons of bug fixes.
Windows 10 19H1 has also improved the performance and various problems have been addressed.