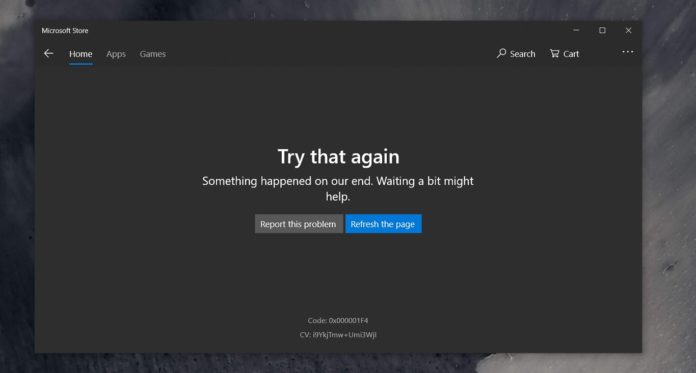 Many Windows 10 and Xbox One users are reporting that the Microsoft Store is down in some regions. Users have to deal with a pretty annoying Microsoft Store problems on Thursday morning that made the app store almost non-functional for some of those affected.
Users, who documented the bug, are seeing an error message when opening apps listing or performing a search in the Microsoft Store.
"Something happened on our end. Waiting a bit might help," the Microsoft Store error message reads. Refreshing the page returns the same result and clearing cache of the app store is not helping either.
We were able to reproduce the bug and the app store is also not working on our devices at the time of writing this story. Some users have confirmed the problem on Twitter and as well as Reddit, but there's is no acknowledgement from Microsoft yet.
"So even though I am signed in on Windows with my Microsoft Account – I am physically unable to log in to the Xbox App or the Microsoft Store with the same account?! Resetting the Microsoft Store did not fix," a user tweeted.
@XboxSupport Please explain to me why my Xbox One S is running like a snail and i can not connect to the Microsoft Store…

— Braiden Stokely (@OzzyGamer275) May 9, 2019
https://twitter.com/Wolfheimrick/status/1126456629510135808
Is Microsoft Store also having similar problems on your Windows 10 device or Xbox One console? Let us know in the comments below.
Update: Microsoft Store is coming back online.