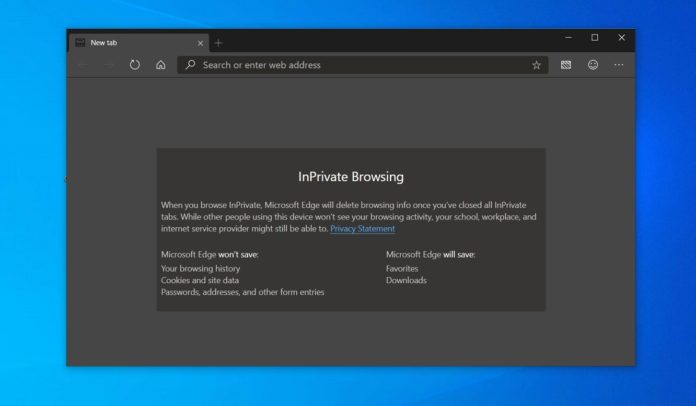 Microsoft appears to be working on an interesting feature that could improve user privacy when running Chromium-based browsers, such as Microsoft Edge and Google Chrome in incognito mode.
When you use a Chromium-based browser in the incognito mode, the browsing history, cookies and several other data are not stored, but the keyboard input is still monitored to provide text predictions and other functionality. Microsoft plans to update the Chromium source to include a feature that would tell Windows 10 to not monitor the inputs for text suggestions when the browser is in incognito mode.
Microsoft's new feature will prevent the operating system from remembering, learning any words you enter and making text suggestions.

A commit revealed that Microsoft will be connecting Chromium and Windows 10 together to protect the words that you enter in incognito typing from Windows' prediction services.
"We need to set input scope to IS_PRIVATE if we are in "Incognito" or "guest" mode on Windows 10," the company detailed its plan in a commit that is still in development and cannot be tested in Canary builds.
"On Windows 10, we should use IS_PRIVATE input scope if user is in "incognito" or "guest" mode because we don't want input service to provide text intelligence for private data," Microsoft explains the problem in a bug post on Chromium Gerrit.
The feature is still in development and it's not known when Microsoft plans to bring it to the browsers.