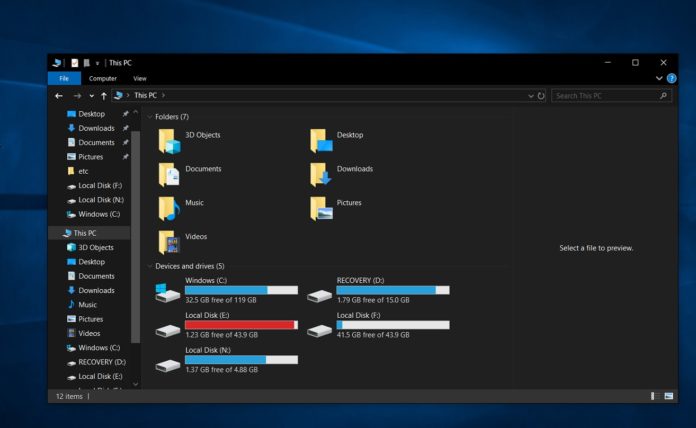 The chances of data corruption are higher if you disconnect USB storage device such as a USB flash drive (pendrive), USB thumb drive, Thunderbolt-enabled external drives, external hard disks before making sure it's safe to do so. In some cases, the sudden removal of a storage device might corrupt files.
To avoid corruption of the data stored in the USB storage device, the users have always used the Safely Remove Hardware icon before unplugging a USB device.
In any version of Windows, the system optimizes USB flash drives for quick removal by default. But for many other USB storage devices, the default removal policy has always been "Better performance" setting.
Starting with Windows 10 October 2018 Update and newer, the default option for all USB storage device is "Quick removal". In a support doc, Microsoft has confirmed that it has changed the way Windows interacts with external storage devices.
Quick Removal and Better Performance
Quick Removal, which is now the default option, minimizes the chances of data corruption in day-to-day use. However, Quick Removal decreases USB performance of the device.
When Quick Removal is turned on, you can remove the device without using the Safely Remove Hardware process. It makes the process safer but slower at the same time.
Better Performance option, on the other hand, allows Windows to cache data instead of writing it to the USB device immediately. As a result, the performance of the device is better. But data corruption is much more likely if you unplug the USB device without using the Safely Remove Hardware option.
Advanced users can always switch between the two options from the settings. To change the policy for an external storage device, you can follow the steps outlined below:
Connect the USB storage device to the system.
After noting the driver letter for the storage device, open Disk Management.
Locate the USB storage device and right-click on it.
Select Properties.
Select Policies and you can select the policy you want to use.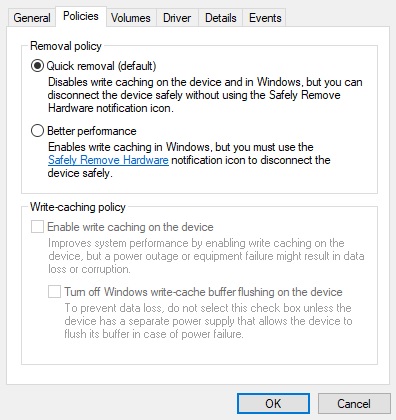 To summarize the changes, the default state for all USB storage devices has become "Quick removal" to ensure data safety. You can always change the way Windows interacts with external storage devices by following the above steps.
If you select "Better performance" over Quick Removal, you must also follow the "Safely Remove Hardware" process.