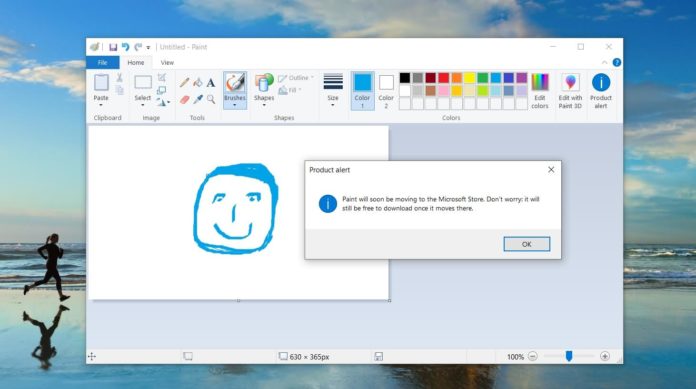 Back in 2017, rumours claimed that Microsoft might kill off the legacy Paint app in Windows 10 in favour of Paint 3D. However, Microsoft clarified in a blog post that MS Paint is merely moving to the Windows Store and it's not being killed off.
Microsoft updated the MS Paint in Windows 10 with a notice to confirm that the app will be moved to Windows Store soon. It's been more than one and a half years since the Microsoft announced its plans to move Paint to Windows Store but there haven't been any latest developments in this regards.
Paint is still accessible in Windows 10 and it hasn't been moved to the Microsoft Store. According to the latest findings, Microsoft isn't moving the Paint app to the app store anytime soon.
In Windows 10 19H1 preview builds, Microsoft has quietly updated the Paint app and the product alert implemented in Paint has been removed, suggesting that software maker isn't planning to move Paint to the Windows Store at the moment. As of Windows 10 Build 18334, the warning is no longer there in the Paint app.

The notice is intended to make everyone aware that Paint will be shifted to a new home at some point and the removal of the alert suggests that Paint isn't going anywhere after all.
It's not known whether the plans have changed, as Microsoft hasn't officially confirmed anything in this regard.
Windows 10's next big update codenamed 19H1 is already in an advanced development stage and the update is projected to be finalized next month. Windows 10 April 2019 Update (version 1903) is currently available for Insiders and it will be released to the general public in April.
In the next version of Windows, Microsoft will continue to offer both MS Paint and Paint 3D which makes sense as both apps target a different group of users.