A former alleged Microsoft Edge intern recently claimed that Google updated its YouTube website to cause unexpected issues in Windows 10's Edge browser while playing videos. According to the alleged employee, the changes made to YouTube eventually caused Microsoft Edge's performance to look substantially slower.
The alleged employee claims that Google added a "hidden empty div over YouTube videos" to reduce the performance of Edge browser which uses Microsoft's hardware acceleration for videos.
Google says this isn't the case and they don't make changes to their websites with the intention to defeat optimizations in other browsers. In the statement, Google also concludes that the company handles the reported bugs seriously and fixes them as fast as possible.
"YouTube does not add code designed to defeat optimizations in other browsers, and works quickly to fix bugs when they're discovered," a YouTube spokesperson said in a statement. Google emphasises that they engage with other browsers vendors through standard bodies and it also uses the open-source Chromium project to improve the web compatibility.
The allegations
Microsoft has confirmed that they won't be using its EdgeHTML rendering engine for Blink (a rendering engine mainly developed by Chromium contributors) and the company will also use the open-source Chromium source codes.
There are mixed opinions from the users, developers and critics but as far as a former intern working for Microsoft is concerned, Google is also responsible for Microsoft's decision to discontinue EdgeHTML.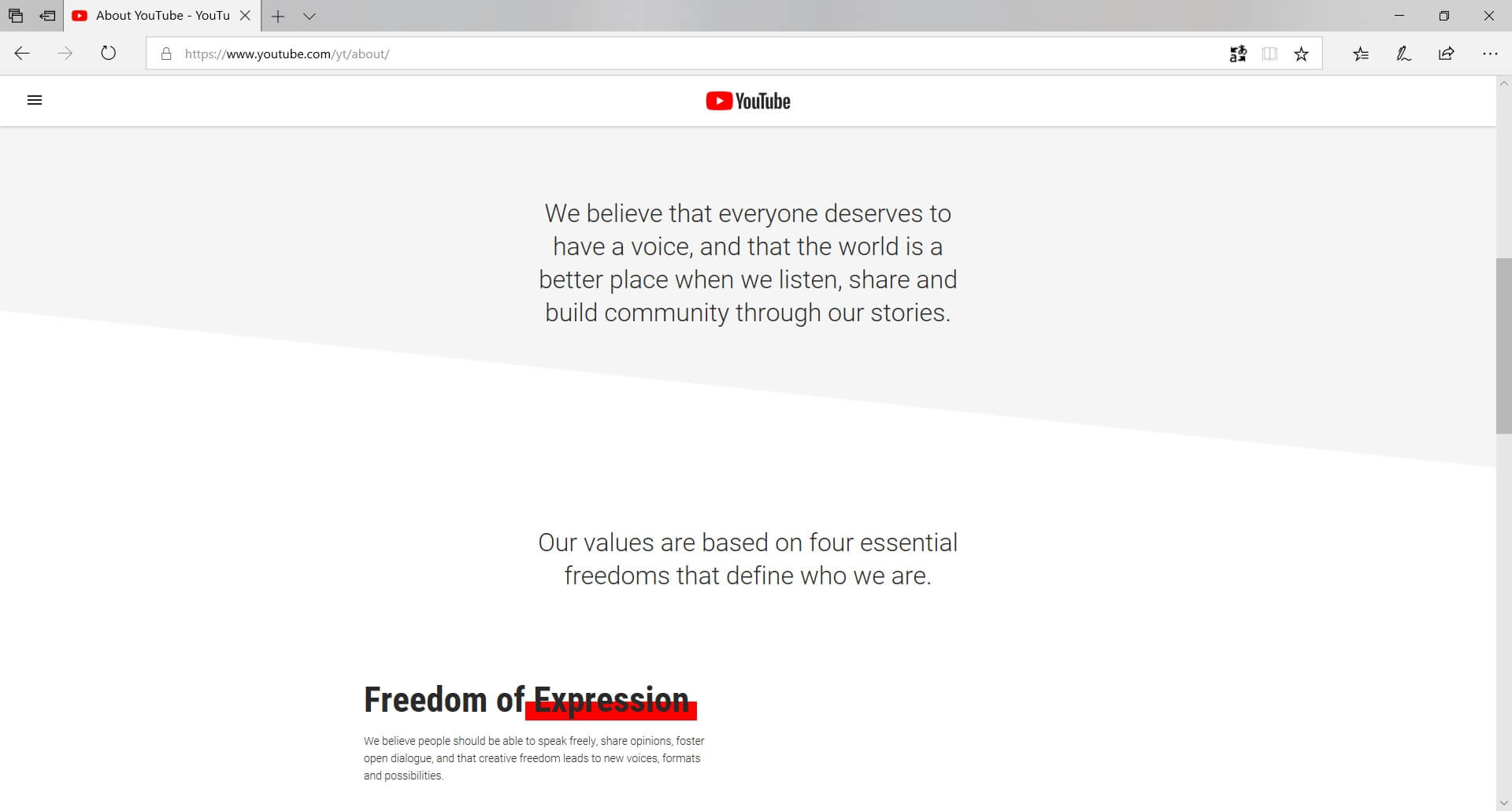 The alleged Microsoft employee who goes by name Joshua claims that Google made frequent changes to its web apps such as YouTube. Some of those changes resulted in performance issues while using the web browsers developed by other vendors such as Microsoft.
The engineer claims that Microsoft decided to discontinue EdgeHTML because they couldn't catch up with the frequent changes that Google made to its web apps with the intention to break other browsers. "For example, they recently added a hidden empty div over YouTube videos that causes our hardware acceleration fast-path to bail (should now be fixed in Win10 Oct update)," he explains in his post.
Not the first time
It's not the first time Google has been accused of intentionally degrading the performance of YouTube in other web browsers. Earlier this year, Mozilla program manager Chris Peterson noted in a series of tweets that the performance of YouTube pages is 5x slower in Firefox and Edge than in Chrome.
According to Chris, the redesigned YouTube was using a deprecated shadow DOM API which is only implemented in Chrome. As a result, the performance of YouTube was much slower in browsers not utilizing this solution.
Back in the old days, Google blocked Microsoft's YouTube app for Windows Phone due to various reasons. The re-launched Microsoft's YouTube app for Windows Phone was also blocked as Google said that Microsoft didn't enable a fully-featured YouTube experience and concluded that the app violated their Terms of Service.
Chromium-powered Edge browser
Microsoft recently announced that they are building a new browser that would be using Chromium source codes which is being used by Google's Chrome, Opera, Vivaldi and other vendors.
The rebuilt Microsoft's web browser will still use Edge branding and the preview version of the new browser will be ready in early 2019.