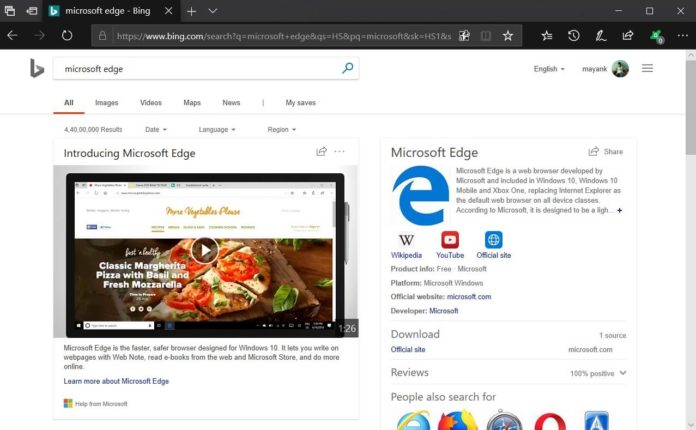 Wild rumour of the day says Microsoft is making a new web browser that uses the Chromium source code. The browser is reportedly codenamed Anaheim and it will replace Microsoft Edge on Windows 10.
More recently, we've heard that Microsoft is working on Windows Core OS, a modular version of Windows that can run on any form factor. But forget that for a second, as a crazy rumour just arrived which claims that the software giant is working on a completely new browser based on Chromium.
Microsoft Edge is not popular among Windows 10 users and it has failed to gain traction in the browser market, despite a modern interface and Continue anywhere experience.
According to the report, Microsoft will soon give up on EdgeHTML for Windows 10 and the company may build a new Chromium-based browser which is currently codenamed Anaheim.

The Chromium-based browser will be the new default web browser in Windows 10 and it won't use EdgeHTML.
EdgeHTML is a browser engine developed by Microsoft for Windows 10's Edge browser. The latest EdgeHTML18 was released with Windows 10 October 2018 Update and introduced several consumer and security-focused features such as new Autoplay Policies, JavaScript engine improvements and more.
It's not yet known if the browser will use Edge branding and whether the Anaheim will look completely different. Microsoft Edge for Chrome use Blink rendering engine, so by the looks of things, EdgeHTML is pretty much dead.
Chromium project
Chromium is the name of an open-source project which is headed by Google developers but maintained by the Chromium Project members (the community developers). Chromium is independent and it does not come with Google services.
The Chromium refers to the browser code that's powering Google Chrome, Vivaldi, Opera, and others. The Chromium project supports web rendering engines like Blink and V8.
Microsoft Anaheim
Microsoft Anaheim, the Chromium-based project will get better page rendering support, frequent updates and more. Microsoft might unveil the web browser next year and Insiders will be able to try it in Windows 10 19H1 builds.
The project is under development right now and nothing is official at the moment. The web browser might go live in the next update for Windows 10 codenamed '19H1′ which is projected to be released in the spring of 2019.