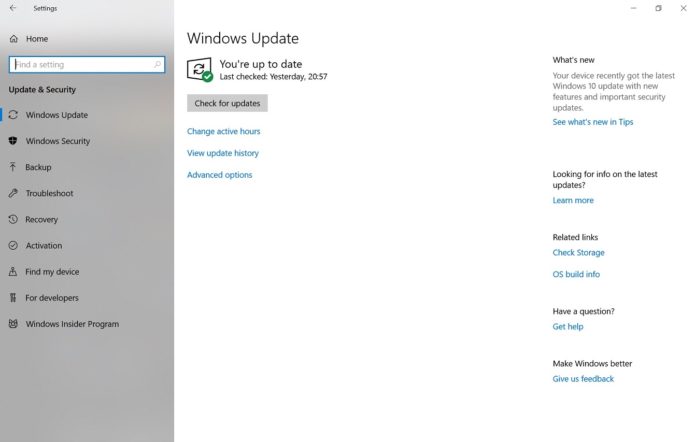 Microsoft has released a new patch for Windows 10 April 2018 Update and it comes with fixes. The direct download links for Windows 10 KB4462933 are also available and you can use it to manually patch the system.
Windows 10 KB4462933 doesn't come with any new features or major changes as the focus of the patch is entirely on fixing the reported issues. Installing today's update for Windows 10 April 2018 Update will advance the PCs and laptops to Build 17134.376. It's important to note that this patch won't fix any major security issues.
The focus of Windows 10 Build 17134.376 is entirely on bug fixes and quality improvements. It is worth noting that no other Windows 10 version is getting a cumulative update today and if your system is on Windows 10 April 2018 Update, you can download the patch from Windows Update or Microsoft's Update Catalog website.
If you're planning to install Windows 10 KB4462933 manually, make sure the latest servicing stack update (KB4456655) is installed. The servicing stack can be installed automatically via Windows Update.
KB4462933 Download Links for Windows 10
Windows 10 KB4462933 Direct Download Links: 32-bit (x86) and 64-bit.
KB4462933 Windows 10 17134.376 Full Changelog
Windows 10 version 1809 patch addresses an issue where the document fails to appear in the Microsoft Edge DevTools debugger. This update includes fixes for the updated time zone information. The update also comes with fixes for the legacy Bluetooth Basic Rate (BR) device inbound pairing bugs.
A bug where the OS would stop working when a Bluetooth device is removed by the user has been addressed. Microsoft has also deployed a fix for an issue where it is impossible to disable TLS 1.0 and TLS 1.1.
According to the changelog, this update has also addressed a bug that prevented the launch of Windows Defender Application Guard (WDAG) on Windows 10N in Europe.
No known issues
Microsoft is not aware of any issues in this update and you should be able to install the patch on your PC without any issues.
Windows 10 October 2018 Update likely to re-launch soon
Microsoft is expected to re-release Windows 10 October 2018 update to the general public sometime this month. The company has already shipped the fixed version of Windows 10 version 1809 to Insiders and it would begin rolling out to more customers soon, assuming there won't be any major issues with the new version.
Microsoft halted the rollout of the big release after the users discovered that update deleted their content. Microsoft says the number of customers who lost the data was very limited and software upgrade was available only to those people who requested it, by checking for updates from the Settings app.