Microsoft has just published Windows 10 October 2018 Update ISO images, allowing users to download and install the update from scratch for best performance.
You can download ISOs of Windows 10 October 2018 Update (version 1809) and upgrade directly to the most recent version.
It's important to note that downloading ISO images from Microsoft may not be as easy it sounds. Why? Because the software giant doesn't offer an ISO image directly on its website. Instead, the company offers Media Creation Tool, an application that would download ISO and create a bootable USB drive for you or upgrade your PC to version 1809.
If you open Microsoft's Windows 10 download page from your PC, the page will serve you the Media Creation Tool. However, there's a trick to skip Media Creation Tool and download ISOs directly.
The Media Creation Tool is a better option as it lets you create a bootable media but if you're on a slow, unstable internet connection or if you want to store files somewhere else, you might want to download the ISOs directly and do the whole thing manually.
Why you should download an ISO image?
Windows 10 ISO files are very helpful in some cases. If you want to create a bootable drive or upgrade multiple PCs from any version of Windows 10 or if you want to clean install the update, you can use ISOs.
Windows 10 October 2018 Update ISO download size
It's important to understand that the download size of Windows 10 October 2018 Update ISO image for the 64-bit system is around 4.5 GB. That's around 4500 MB.
If your internet speed is 8Mbps, you can download the ISOs in 1 hour and 20 minutes but it can take up to 5 hours on a 2Mbps connection. Keep in mind that you have to download the ISOs within 24 hours, otherwise the download links will expire and the download will fail.
Important Update: Windows 10 October 2018 Update is once again available and you can grab the ISOs by following the below method.
Downloading Windows 10 October 2018 Update (version 1809) ISO files
Launch Microsoft Edge, which you already have.
2. Open the Windows 10 download page from here.
3. The page will offer you a download link for the Media Creation Tool but you can apply our trick and get the ISO direct by changing the user agent in Edge.

4. Press F12 in Microsoft Edge to open the Developer tools. Head over to the Emulation tab and change user agent from default to Safari (iPad) or Microsoft Edge (Windows 10 Mobile).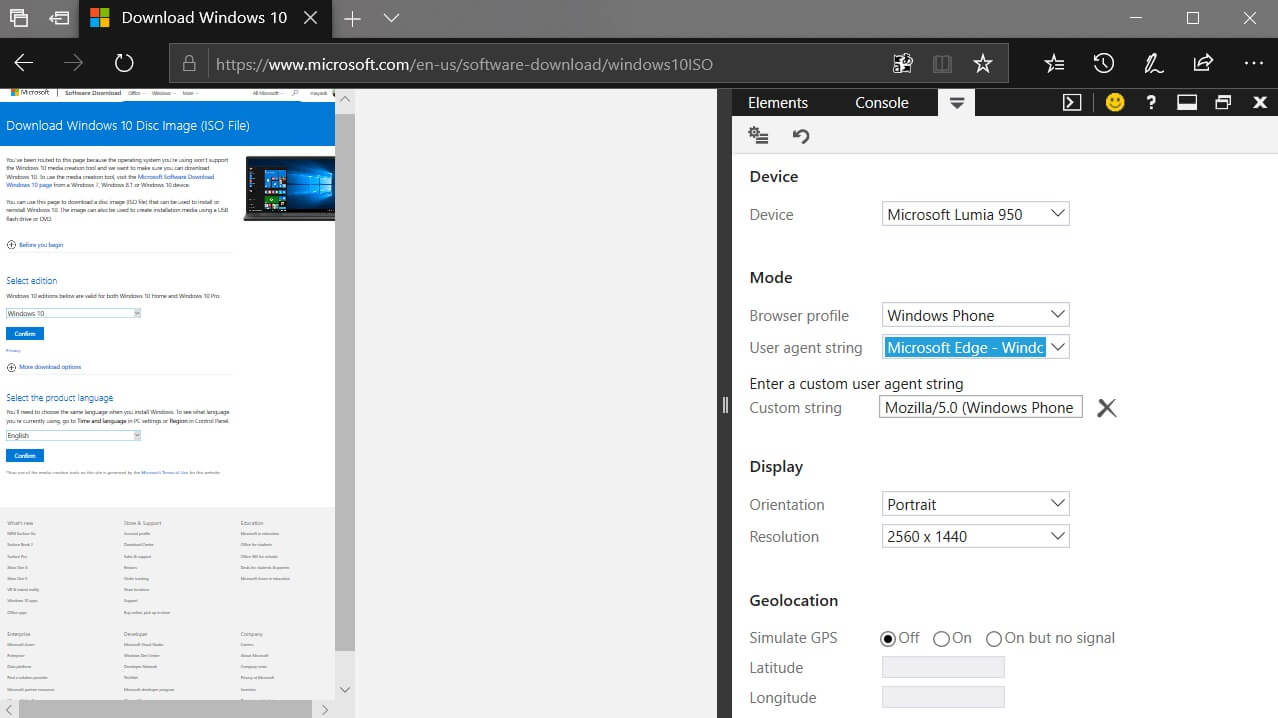 5. The page will refresh and the direct ISO links will show up. You have now skipped the Media Creation Tool step and you can finally download the files.
6. From the drop-down menu, select Windows 10 October 2018 Update and click confirm. Make sure you select the right language/region.
If you're unsure about your system configuration, open Settings -> System -> About and check whether your PC is 32-bit or 64-bit. You can also open region and languages settings page to find the correct configuration.
Key takeaways
To download Windows 10 October 2018 Update, you would need to open Edge browser or Chrome and follow the aforementioned trick.
Download links would expire in 24 hours.
Keep at least 30GB of free space to install the update.
Make sure you have access to a stable and fast internet.
What's up with Windows 10 October 2018 Update rollout?
Windows 10 October 2018 Update is said to be gradually rolling out to compatible devices and it should become available to more devices by end of this month. In addition to the automatic download, the manual download option is also available.
You might want to check our article that details the minimum system requirements to run Windows 10 October 2018 Update.
The feature update is also rolling out to compatible devices as an automatic download. But it's only available to select users as Microsoft is once again rolling out the update in stages. The software maker says that the company is using the machine learning algorithm to find the systems that can update to version 1809 securely without hitting any compatibility issues.
If your PC, the installed drivers and apps are compatible, the update will show up in the coming hours or days without any manual action. Or you can simply open Settings app, navigate to Updates & Security and download the final bits by tapping on check for updates.
If everything goes right, broad availability should be announced next month.
In case you're unfamiliar, the new version of Windows 10 comes with a wide array of improvements. For example, the Cloud clipboard that syncs the clipboard content across devices is now available. Microsoft has also added a dark mode to the File Explorer and quietly updated the hidden UWP modern File Explorer with design improvements.