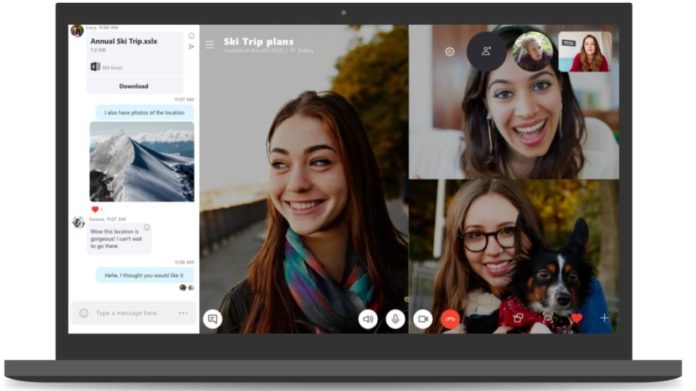 We had earlier reported that Microsoft is working on a new version for its Skype app for all platforms. The company rolled out a new version 8.0 of Skype app earlier in the month advising users to upgrade to the latest version since the older version 7.0 will be discontinued after Sept 1, 2018.
The new version 8.0 of the Skype app brought many new features along with performance improvements for users. The company introduced features like free HD video and screen sharing calls, @mentions in messaging and more.
Today, the Redmond Giant has announced some more new features which the company plans to roll out in the coming few months. The Skype team is currently working on new keyboard shortcuts which would show on the sign in screen.
The company is working on advanced webcam settings and Do Not Disturb support for incoming calls. You will also be able to easily switch between cameras in future updates to the Skype app. 
The Skype messaging experience is going to be improved with the company working on introducing an option to change font size for desktop users, Sharing of the Skype contacts with your friends and family, Hide conversations in chat list and more.
Users will also be able to add a phone number to an existing Skype contact and providing users with more status availability control. Skype in future updates on Windows 10 would be also getting a new Spilt view option.
Microsoft says that the new update to Skype version 8 will be rolled out in waves over the next few months. The Desktop users will be able to upgrade their Skype app after 11/1/2018, Mobile and tablet users will receive the update starting 11/15/2018.
"Many of you have taken the time to share your thoughts on this update. Thank you. We appreciate it! We learned how important it is to you to maintain feature parity with older Skype versions and we're working towards that goal," writes Microsoft's Ellen Kilbourne.
Skype Insiders can get their hands on the new features by downloading the version 14 which is already available in Microsoft Store for Windows 10. Do let us know your thoughts on the upcoming new features in the comments below.