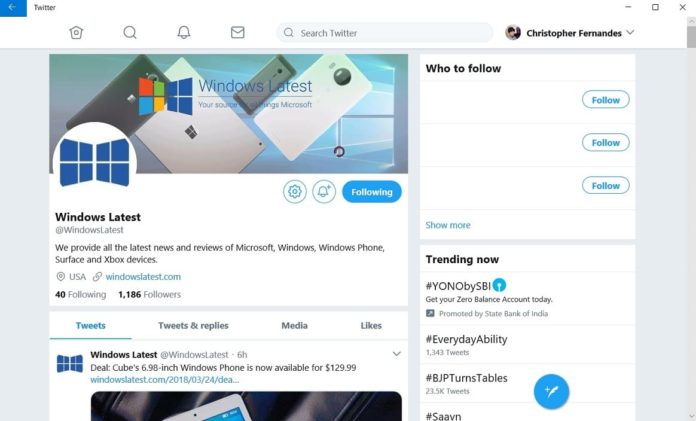 Twitter which released its PWA (Progressive Web App) for Windows 10 some time ago has been constantly adding new features to the application. Twitter PWA is a web app that works across all devices like the web, Windows 10 and Android.
The social media giant in its previous update on Windows 10 pushed out some neat features which were missing from the application. The previous update on Windows 10 brought support for Windows Timeline along with letting users to upload videos. The company also added the option to add videos to tweets with 15MB limit.
To continue with the trend the company has now pushed out another new update to its Twitter PWA on Windows 10 device. Unlike the previous update, the latest update can be downloaded via the Microsoft Store.
The latest update comes with the option of autoplay videos and animated GIF's. These features were already added to the Twitter application in the previous update last week which was a server side update, but were not available to all users at that time.
Now with the update via Microsoft Store the latest features are available to all users across devices along with the features included in the previous update. It generally is very hard to know as to what are the new features added to the PWA's since the update happens server side and hence the company has provided release notes which was confirmed by Twitter's Charlie Croom.
"One downside of PWAs is that it can be hard to tell when things change; there's no version notes in the store :( To try and keep people in the loop with changes, we're starting web release notes (incl os specific)".
PWA's has been a great initiative by the Redmond Giant and Twitter has been very supportive of the initiative and has been regularly pushing out updates to its application on Windows 10.
The latest update to the Twitter PWA is available via Microsoft Store and you can download it by going to the Microsoft Store on your Windows 10 PC.