Yet another patent from Microsoft shows off a dual-screen device with a hinge but unlike any previous patents, this one focuses on navigational aids to improve the user experience and it has something to do with scanning capabilities.
First discovered by us, Microsoft applied for the patent titled "Navigational Aid for a Hinged Device via Semantic Abstraction" in January 2017. The patent filing was published by the U.S. Patent & Trademark Office (UPSTO) earlier today (2nd August) and it shows off an interesting dual-screen device.
In the background section of the patent, Microsoft explains that "mobile devices" offers a variety of different functionalities. The devices having multiple display surfaces connected by a hinge introduces "complexities that are typically not resolved using conventional gesture input modalities".
"In the context of a book or journal, for example, a user can view two pages in a way that resembles a paper book or a note book," the company explains in the background section of the patent application.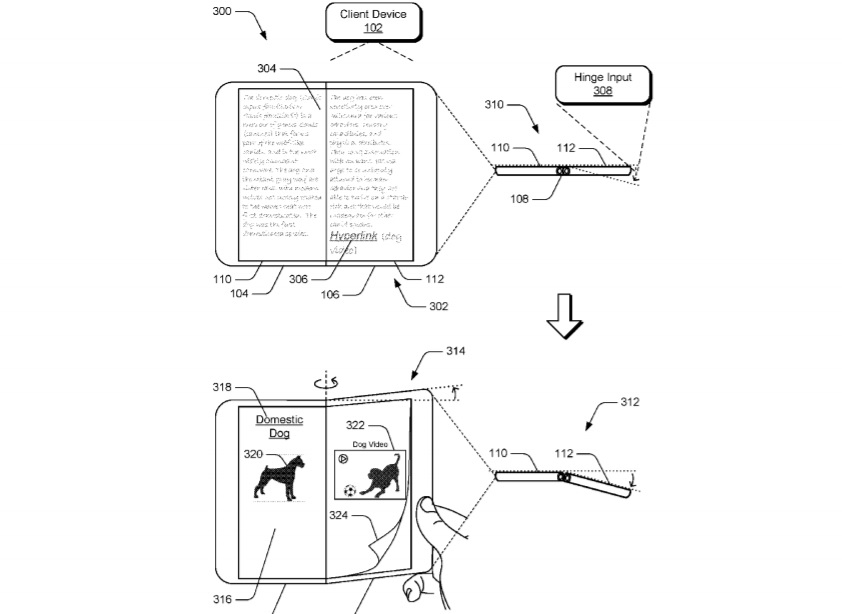 Microsoft further explains that the users may use the hinged device to generate content, such as notes, journal entries, documents, and so on.
"Some users may not organize their created content, and thus finding specific content within their created content can be challenging and time consuming," the company adds. "This can detract from user enjoyment and lead to user frustration when using these types of devices".
Microsoft appears to have figured out a solution to deal with this problem. In the patent application, Microsoft explains a new technique (navigational aids) that would improve the user experience when the user is navigating through content.
"Techniques for navigational aid for a hinged device via semantic abstraction are described. Generally, the techniques described herein improve a user experience when the user is navigating through content, such as user-generated content in an electronic document. For example, the techniques described herein semantically abstract authored content in an electronic document to provide abstracted content. In implementations, abstracted content includes abstracted pages that each represent a different section of the authored content. When a user scans through an electronic document, rather than scanning page by page, techniques described herein instead navigate through displays of the abstracted pages. In addition, a hinge between different displays can be used as an input mechanism to control a speed of navigating through the abstracted pages to allow a user to more easily locate specific sections of the authored content," the company explains.
"The semantic abstractions can be generated based on a variety of different information (e.g., metadata) associated with the content, the user, and/or other users that view or co-author the content".
It appears that the patented device is aimed at enterprises that may use it to scan the documents.