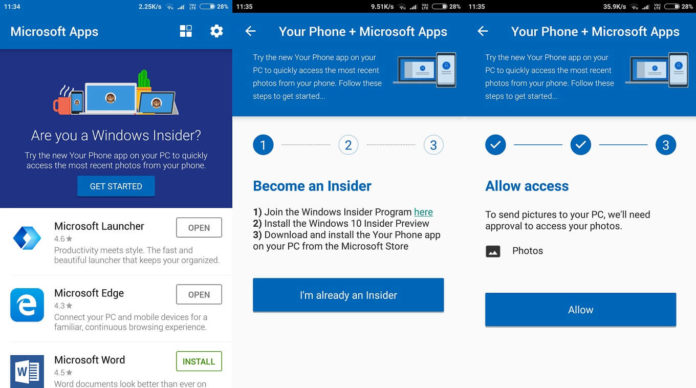 A while ago, Microsoft made an app that gathers all of the apps that are built by them under a single roof. Called Microsoft Apps, it's an app that makes it easier for users to keep track of all of the apps built by the company. It's a great tool to discover some new application that you didn't know existed.
Microsoft has quietly pushed a new update for "Microsoft Apps" on Google Play Store for Android devices. The updated Microsoft Apps allows you to sync your phone to your Windows 10 PC running the latest insider build.
"Sync photos from phone to PC (Windows Insiders only)," the chaneglog of the update reads.
"Try the new Your Phone app on your PC to quickly access the most recent photos from your phone," the banner titled "Are you a Windows Insider?" reads. To sync your phone and PC, you would need to:
It's worth noting that Your Phone app for Windows 10 is still rolling out to the Windows Insider and the integration may or may not work.
You can download Microsoft Apps from here.