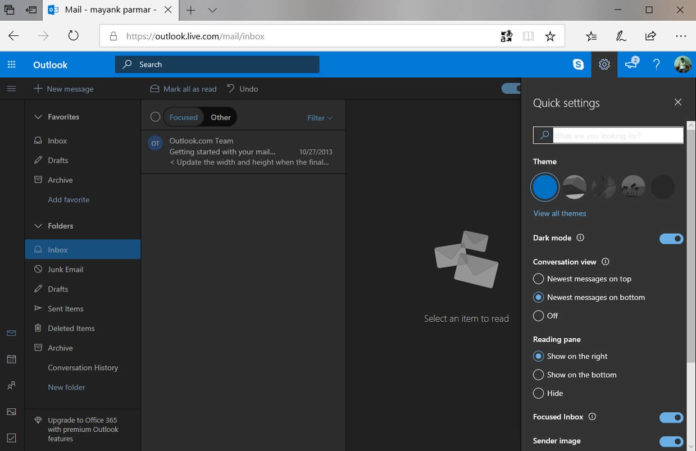 Microsoft appears to be rolling out the new design of Outlook.com with dark mode and other improvements to all users, as it continues improving the email service with changes based on feedback.
Looks like the https://t.co/UzX6WbIBZ0 Beta, which started last August, is wrapping up. Are you seeing the update yet? https://t.co/McH3Q5PK4z pic.twitter.com/p4K8ywjbXR

— Richard Hay (@WinObs) July 25, 2018
Today, the new Outlook.com design is rolling out to the general public but it's showing up on some accounts only and Microsoft is yet to confirm the rollout.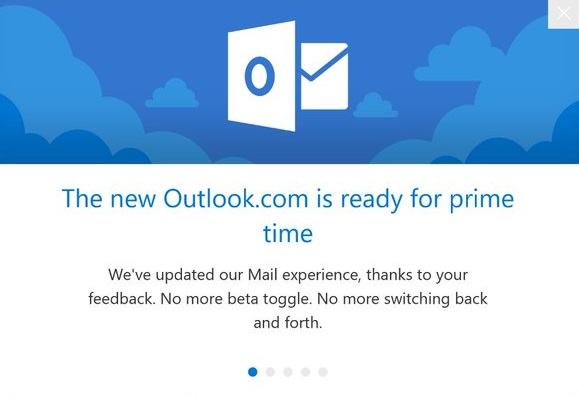 Microsoft's new Outlook.com experience features a smarter inbox, better personalization options, emojis, GIFs and more. You can find the full list of changes below.
We're implementing a more responsive web development framework that delivers an upgraded search feature, a fresher look with a modern conversation style and a new design to let you see, read, and attach files and photos faster.
Your inbox now shows you Quick Suggestions as you type—so you can easily add information about restaurants, flights, or your favorite teams' schedules to your conversations.
An improved photo experience puts all the pictures sent or received in your email in one place and makes it easier to share them with others.
The new modern conversation style makes it easier to manage and preview photos and attachments.
You can personalize your inbox with your favorite people and folders to make it easier to find the friends, files, and conversations that matter to you and give your communications a personal touch with an easier way to access tons of expressions, including popular emojis and GIFs right inside Outlook.
"Dark Mode is a more-pleasant way to read your Outlook.com email if you prefer interfaces that are less bright or if you are in a low-light environment. Dark Mode is available on the new Outlook.com experience (formerly known as the Outlook.com Beta experience) only," Microsoft's Philp said in a Outlook uservoice post.