Microsoft recently pushed a new update for Photos app on Windows 10 and if the reports are believed to be true, the new software update is making Photos app unusable on some Windows 10 devices.
Many users have complained that the Photos app throws error "File System Error -2147219196" when they double-click on a JPG, PNG or other image file format. A user explains on Microsoft forum that the Photos app updated on July 17 and it doesn't open anymore.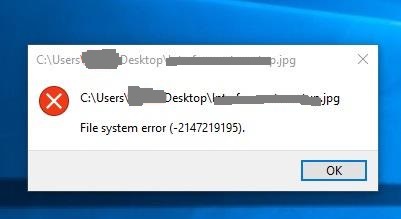 Every attempt to open a photo via the Photos will result in "file system error (-2147219196)". It's worth noting that resetting and repairing the app from the settings menu is of no help.
The users on social media website Reddit also claims that the issue is occurring on their system. In every case, the problem appears to be exactly the same.
How to fix File System Error 2147219196 in Photos app on Windows 10
It appears that the users can fix this error by uninstalling the Photos and reinstalling it from the Microsoft Store. You can uninstall any built-in app, but Microsoft doesn't allow you to easily uninstall them in the usual way and it could be risky if not done properly.
You can also fix the Photos app by reinstalling Windows 10 OS or resetting the PC but if that's not something you'd like to do, you can follow the below steps to uninstall the Photos app.
Note: We do not take any responsibility and we are not liable for any damage that could be caused through the use of the following apps and tools.
Uninstall the Photos app with a PowerShell cmdlet
First, open PowerShell with administrator rights.
Hit Windows+X or right click on start button, and then choose the "Windows PowerShell (Admin)" option from the context menu.
Run this command to remove the Photos app:
Get-AppxPackage *photos* | Remove-AppxPackage

Go to the Microsoft Store and search for Microsoft Photos and install the app.
Third-party tools