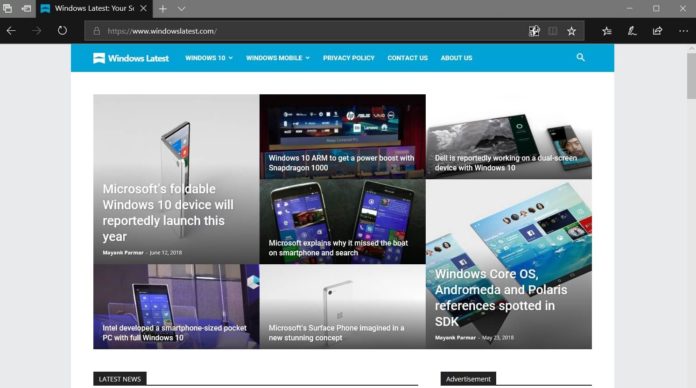 Microsoft is working on a new set of improvements for Microsoft Edge and the alleged changes are projected to arrive with Windows 10 Redstone 5 in the fall of 2019. The latest preview build comes with hints in this regard, revealing some of the features being added to the browser.
Microsoft is expected to finalize the development of Windows 10 Redstone 5 by September and the public rollout should kick off in October.
Microsoft Edge in latest Windows 10 preview build comes with new tab page customization options that would allow users to set a URL as the default new tab page. For example, you can set MSN News as the default website for new tab page. Additionally, Microsoft will finally make it possible to keep the favourites bar always on screen.
Microsoft is adding a new setting to Edge browser that will allow you to customize the function of the home button. There will be a new option to configure a URL that is to be loaded when the home button is pressed. For example, you can set Bing as the URL and when you will click the home button, Edge will take you to Bing instead of the default Start Page.
Windows 10's default web browser will finally make it possible to keep the favourites bar always on screen, which is already available in third-party browsers like Google Chrome. At the moment, the favourites bar shows up on the start page and hides automatically when in a new tab.
It's worth noting that Microsoft has already added the aforementioned changes to Edge browser in most recent Windows 10 Redstone 5 preview build but they cannot be enabled. However, sooner or later the feature will be enabled in Microsoft Edge browser.
It's likely that these changes would be enabled in a future Windows 10 preview build.
According to a data provided by StatCounter, Google Chrome is the leading browser on the desktop but Microsoft Edge is slowly gaining new users and the adoption is likely to improve with the release of Redstone 5 update. The data provided by StatCounter for June 2018 shows that Google Chrome reached a market share of 66.87% last month, Microsoft's Internet Explorer is third with 7.13% and Edge is fifth with 4.16% market share.