The research firm Gartner reported that the global personal computer market grew for the first time in six years in the second quarter of 2018. The report states that the worldwide PC shipments rose 1.4 percent in the past quarter to 62.1 million units and the growth is driven by upgrades in the business segment.
It goes without saying that Microsoft's Windows 10 efforts are finally paying off and it's getting updates twice every year, which has contributed to PC market growth.
More and more consumers have switched to mobile devices and the PC sales have been sluggish in recent years. According to Gartner data, the second quarter of 2018 brought us the first growth of the PC market in six years.
"PC shipment growth in the second quarter of 2018 was driven by demand in the business market, which was offset by declining shipments in the consumer segment," said Mikako Kitagawa, analyst at Gartner.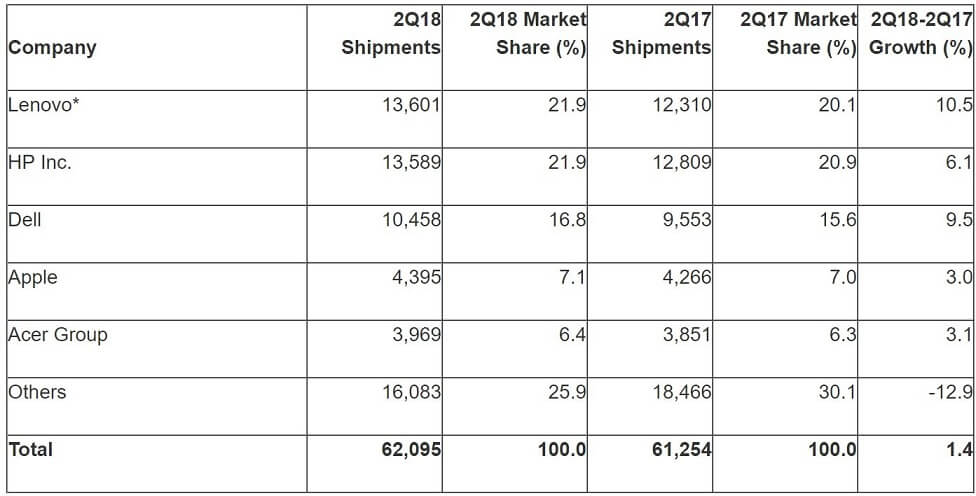 It is, however, worth noting that the PC market may falter again when the replacement peak for Windows 10 passes. The strong performance in the second quarter is mostly the result of demand in the business market and it could record a massive boost only if consumer sales return back to old growth, which seems unlikely as the consumers are more interested in smartphones.
"In the business segment, PC momentum will weaken in two years when the replacement peak for Windows 10 passes. PC vendors should look for ways to maintain growth in the business market as the Windows 10 upgrade cycle Tails off," he added.
Lenovo remains the leading PC maker with a market share of 21.9 percent. HP is second with the same share but it shipped fewer devices than Lenovo. On the other hand, Dell is third with 16.8 percent market share.
Another market intelligence firm IDC also reported market growth. The company reports that the shipments of desktop, notebook and workstation computers reached 62.3 million units, exceeding the firm's forecasts of 0.3 percent growth.