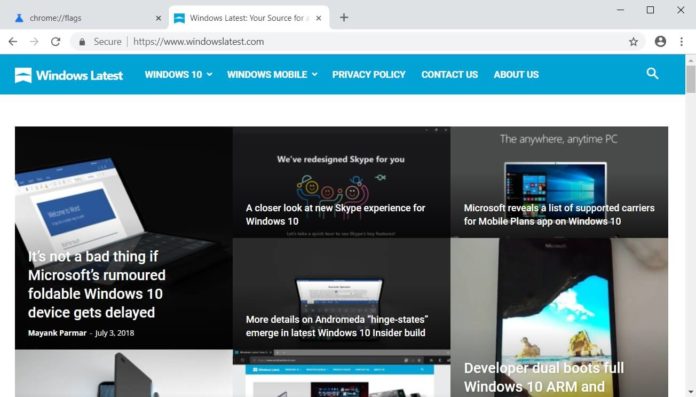 Google has been testing a material design interface on Chrome for quite some time now. These changes are seen in the Google Chrome Canary branch. The changes in the UI are more than just aesthetic improvements. Material UI design would ensure a more user-friendly interface.
Google Chrome has always looked the same. If you remember, Google completely revamped the Android user interface after Android KitKat. Google followed the Material Design concept from Android Lollipop onwards.
Not just the operating system, Google also brought material design to its apps like Gmail, Google +, etc. There is something about the material design that is visually appealing to everyone. It is almost like a breath of fresh air when you see a clean and modern user-interface. The good news is that Google is finally bringing the material design language to Google Chrome on all platforms.
The address bar is getting a new design overall. The ends of the address bar are now rounded rather than the rectangular shape. Tabs will have a rounded appearance which looks way different from the trapezoidal shape it had. Some other changes are single tab mode, Omnibox suggestion icon, tab strip coloring, pinned tabs, and alert indicators as mentioned by François Beaufort.
"Browser UI for Chrome OS, Linux, and Windows just got a Material design mode refresh in Canary channel," said François Beaufort on Google+. "Plenty of things have been updated for the better in my opinion: tab shape, single tab mode, omnibox suggestion icons, tab strip coloring, pinned tabs, and alert indicators."
The new update is available for Windows users having the Google Chrome Canary version. It was available from early on in the Canary version but it had to be enabled via flags in order to see the changes. But with the latest update, the changes would be present by default.
This suggests that the material design update will be coming soon to the stable version of Google Chrome.